Freestyling With iLoveMakonnen: On Drake, Alexander Wang, and That Elusive Album
The rap sensation on his new mixtape, his long-awaited album, and his days of hustling as a dealer. "Now that I don't need to, I do better," he says.
---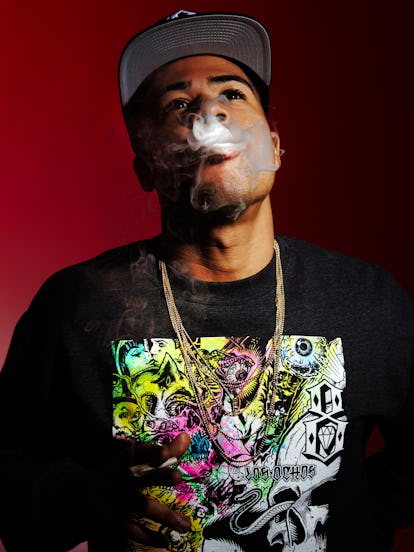 Makonnen Sheran, better known as the rapper iLoveMakonnen, and even better known as the dude who came up with the irresistible weekday anthem "Tuesday," featuring an extremely "Champagne Papi" Drake verse, is getting a little restless these days. Since signing to Drake's OVO label over a year ago, his post-"Tuesday" album has been in constant flux, the latest news indicating that it will appear, belated but awaited, sometime this fall. In the meantime, iLoveMakonnen, 26, has been shedding weight, aligning himself with Alexander Wang, and pushing out a series of increasingly polished, thirst-quenching mixtapes. The latest in the series, Drink More Water 6, dropped Thursday.
Hi! Where are you right now? I'm in New York, at home. I've been living here for about two years now. I'd definitely love to call myself a New Yorker.
Do you feel disconnected from the ATL scene now? Not really. The ATL scene has some boundaries they need to keep pushing to break. In New York, those boundaries are pushed and accepted, like with race relations, integration of races, acceptance of peoples' different sexual orientations.
You've been coy about your own sexual orientation. I don't know, I guess I'm still the same as I've always been. [laughs]
How did the Alex Wang campaign come about? Oh, my friend introduced me to Alexander outside of Katz's Delicatessen one night. Such a New York story, I love it. And Alexander said, "Hey Makonnen, I'm excited about your music." He wanted to do some stuff, so I was like, "Definitely. Let's collab. Whatever you need." So he reached out through our management teams, and we set some stuff up. I was supposed to perform at his fashion week party last September, but that didn't work out, so they got me involved in the campaign.
Did he know any of your songs besides "Tuesday" at that point? Yeah! He actually liked "I Don't Sell Molly" and a lot of other records. I was like, "Wow." I was super impressed. It wasn't "Tuesday"! He was quoting "I Don't Sell Molly" to me. [laughs]
What shows did you go to during New York Fashion Week? Which did you like? I went to Alexander's show. I went to VFiles to see the young kids get creative and all that stuff. I did a lot of parties of course. I like to party.
You were interested in being a stylist at one point? Definitely.
Is that a fallback in case this whole rap thing doesn't work out? Yeah. Or if anyone wants to give me a part-time job now, I've got time.
You've been looking really in shape lately on Instagram. What's the secret? Drink more water? [laughs] Naw. Ninety-five percent of it is drinking more water, but then the other five percent is cardio and eating right. Going out there and walking; that's why I love New York. I live in West Chelsea, but tomorrow's my last day there. I'm going on the road for awhile. I plan on traveling for the rest of year. So I don't know where my next home will be. I just know that it's here on Earth. Just a world citizen and international traveler.
Virgin Galactic's taking reservations. You could be an otherworldly citizen. I don't think they have Wifi up there yet.
Only thing holding you back. Let's talk about Drink More Water 6. I really like the new single "Sellin'," which seems to be about dealing. But there's a song on the mixtape that comes right before it, "Big Gucci," where you say that the "only thing I'm sellin' now is rhymes." So I guess that makes "Sellin'" irony? Yeah, it's true that all I'm selling is rhymes. "Sellin'" was originally titled "Digital Dope," meaning online, digital stuff—merch, streams, all that stuff. I changed it to keep my trap fans happy.
You were playing to the crowd? Yeah. I'm trying to elevate them as well. It was definitely "Digital Dope" at first, but I was like, "Well, this is kinda geeky." I'm just up there talking about apps and Wifi passwords. [laughs] So I was trying to keep with that hip-hop, rap influence. In the new song I have, I say, "I'm selling dope/and my art is dope/and my dope is art."
You're just an art dealer. Yeah, I'm an art dealer! I'm like, "You like this art?" And people are like, "Yeah, that's dope!" [laughs]
So you don't mind a little self-contradiction. Oh, no. We're all humans, right?
Is there a way people tend to misunderstand you or your songs? Um, just that people think my songs are about selling drugs. And I'm not. We're talking about different ways of dealing. There's a lot of deeper meaning and doubletalk behind it. We're not on the corner on the block with narcotics.
Did you deal at one point in time? Yeah, at one point I did have to do a lot of different hustles to get by. Now that I don't need to, I do better.
I feel like even a song like "Tuesday" was misinterpreted, no? Yeah, people thought it was like, "Celebrate, celebrate!" The reason I was celebrating Tuesdays was because I had no time to party on the weekend. The working man can understand that: "Here's my weekend, on Tuesday." But I don't know, I've noticed now in the club on Tuesdays it's popping. It's more overly dressed up than a Sunday banquet in the big clubs, the ones with lasers and bottle service.
Is that your scene? No, not my scene. I'm into that place where I know the bar owner.
There's also a song on the mixtape, "Turn Off the Lies," that feels like heartbreak. Was that just a token sensitive rapper song, or was that a reference to fresh hurt? Of course I've been hurt. The song is really about relationships these days. There are so many lies; we're not accepting of our true selves. We can turn on the theatrics, but when I want to be real with the person I want to be real with, you know, turn off the lies. I'm not really trying to see all those lies you're hiding from me. If you're lying, I end up seeing them. You know? Just be up front with the truth.
So are you happy romantically right now? Mmm … I guess. I'm longing, more than anything. I had a nice connection in Australia, when I was down there. It's still going strong.
There's an excellent genetic pool there. Yeah, there is. People there are very awesome. They have the lies turned off most of the time. They're happy, the Australians, and they take me as one of their own. I was out there and got stung by a jellyfish, which got me inducted as a true Australian.
I don't know how you feel about people quoting your lyrics back to you, but I'm going to right now. You say on "Dirty Soul": "I swear my album better drop this fall/Don't try to play me for another EP." That is pretty unambiguous language in regards to your label. How do you feel about your situation with OVO right now? I … don't know what's going on. It's great! Obviously, they would be able to answer that more than I can. But everything is going good. I've got releases coming out. It's moving.
Are you pushing out more mixtapes before the album? No, this should do it. But I have something for July, to get people ready for the album this winter.
That's a lot of output. Yeah, I do like 17 songs a session, if we're having a good one.
How long does a session last? Three, four, five hours. I go to the studio and channel it all into freestyles. And it ends up working.
You don't write verses while you're out and on tour? No, I'm not really writing. But I'm observing. I'm looking right now—there's this lady in the street with the orange bag. Subconsciously, it'll relate later: "Lady with orange bag … something drag." You know?
Maybe it's not a lady. Maybe it's "a man in drag." Yeah: "A man in drag/with the orange bag."
Photos: Freestyling With iLoveMakonnen: On Drake, Alexander Wang, and That Elusive Album