Carrie Eddmenson Loves Vintage Stetsons, Bare Feet
The Imogene + Willie co-founder shares the secret to her effortlessly cool style.
---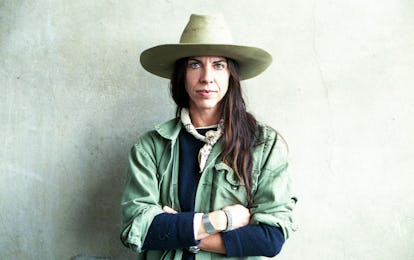 It doesn't take more than a second's glance at Imogene + Willie's Nashville store, a recycled former gas station filled with the brand's cult denim pieces, vintage Louis Vuitton trunks, and antique leather furniture (which may or may not have a sleeping dog sprawled across most of its surface) to spark curiosity about the brains behind the business. Co-founder Carrie Eddmenson—who started the brand in 2009 with her husband, Matt—is every bit the effortlessly cool entrepreneur-next-door. Here, the stylish denim expert sheds some light on her coveted style.
Define your style in three words: Old meets new.
Daily uniform: Imogene + Willie Elizabeth indigo jeans, vintage Wrangler denim shirt, and whichever Maison Martin Margiela boot seems to be the best fit for the day (white t-shirt takes the place of the Wrangler shirt during the summer months).
Greatest hits: 1940's sterling and turquoise squash blossom necklace, wedding band, 1968 stainless steel Rolex that Matt gave me for our 5th anniversary, RRL Navajo shawl, my brothers old Levi's, the original/first pair of Imogene rigid jeans, and a black blazer from Zara that I bought in Istanbul in 2000.
Preferred footwear: A high-heeled bootie or bare feet.
Finishing touches: Omorovicza lip balm and gold flash firming serum, pure frankincense essential oil, Wen conditioning cleanser, 1950's Stetson.
Nighttime look: Add a blazer and mascara.
Best recent discoveries: Klipsch Image ONE (II) headphones; 21C hotel group out of Louisville, Kentucky; and the new album by D'Angelo, Black Messiah.
Favorite stores: Our friend Scott Corey's shop, Santa Fe Vintage, in Santa Fe, New Mexico; Bart's Books in Ojai, California.
Style pet peeve: Trying too hard.
Style icons: The character Rita Nebraska in Little Fauss and Big Halsy, Lauren Hutton.
Last purchase: Agnes Baddoo Sac 2 tote in Natural.
Lusting after: Edward Wormley vintage leather lounge chairs.
Favorite haunts: East Nashville Community Acupuncture; Pucketts Grocery in Leipers Fork, Tennessee; The H.M.S Bounty on Wilshire in Los Angeles; Fez Café tucked in the Grand Bizarre in Instanbul, Turkey.
Winter must-haves: Vintage thermal underwear tops, Matt's socks, La Mer serum concentrate.
What's always in your bag: 2 grid-lined moleskins, 6 micron .01 black pens, tweezers, lip balm, 2 bandanas, clear plastic envelope for magazine clippings; Saint Laurent's zipped wallet with driving license, passport, and paperclips. (I carry my passport in case I can't find my license!)
Photos: Carrie Eddmenson Loves Vintage Stetsons, Bare Feet
Carrie Eddmenson. Photo by Larry Niehues.
A pair of Eddmenson's vintage Margiela boots. Courtesy of Imogene + Willie.
Carrie and Matt Eddmenson. Photo by Larry Niehues.
Carrie Eddmenson. Courtesy of Imogene +Willie.