With the Launch of the Impossible Burger, Veggie Burgers Are Officially In
Now there's vegan meat that "bleeds."
---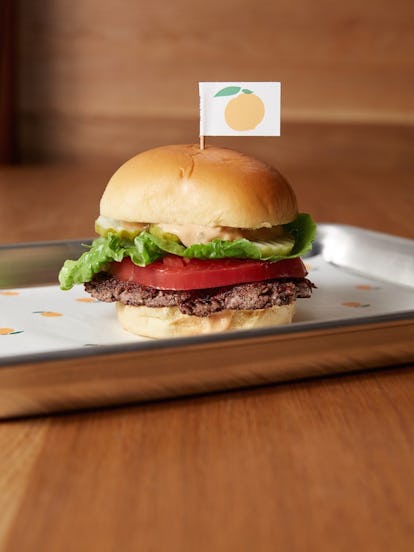 The Nishi-style Impossible burger.
If sushi was the health food of the 90's, and the early aughts brought low-carb, high-protein diets, then we're now officially in the era of eating vegan. On Tuesday, the previously scorned veggie burger entered the foodie vernacular, when David Chang announced he'd be adding an animal-free patty between a bun to his menu at Momofuku Nishi in New York. The burger is the product of Impossible Foods, a private company founded in 2011 to replace meat and dairy with plants. The Impossible Burger is the first innovation from the company, which is funded in part by Bill Gates and Google Ventures.
The burger is five years, 100 scientists, and $80 million in the making. "The biggest environmental crisis right now is the collision between the food system and our natural ecosystem," said Impossible Foods founder Patrick Brown. "I thought that was a problem that was solvable."
Using wheat and potato protein (which gives it that "critical chew"), coconut oil, and – the magic ingredient – leghemoglobin, or heme, Brown's "ground beef" looks and tastes like the real thing. It even bleeds, thanks to the heme, which is found in both animals and plants, and, Brown discovered in his research, is what makes meat taste so delicious.
"Every plant and every cell of every plant contains this molecule heme, but generally in much much lower concentration than you find in muscle tissue in meat," said Brown. "There's one exception: that's in plants that don't need nitrogen fertilizer, like legumes."
The realization that heme is what needed to be replicated to make fake meat taste real was a major breakthrough in food studies. "That's what really blew me away, when I learned that's what makes burgers so delicious, and this is why [the Impossible Burger] replicates that," said Chang, who will serve his "Nishi Style Impossible Burger" with romaine, beefsteak tomatoes, pickles, and special sauce on a Martin's potato roll. "What was most shocking to me was when you put it on the grill, it makes the same sound."
Later this year, the Impossible Burger will appear at other restaurants in San Francisco and Los Angeles, and eventually, you'll be able to buy the burger patties in grocery stores. But for now, Nishi isn't the only place in New York to get your vegan fix. Take Chloe Coscarelli, who opened By Chloe in 2014 after winning the Food Network's reality show "Cupcake Wars," as the first vegan chef to win a culinary competition on national television.
Her Instagram-worthy "guac burger" (made with a black bean, quinoa, sweet potato patty) and "whiskey bbq burger" (smoky Portobello mushroons and seitan), not to mention vegan ice cream and kale cookies have garnered cult followings – just look at the lines out the door. "It takes a lot of time, but with enough trial and error, just about anything can be 'veganized,'" says Coscarelli. "I always look to naturally creamy ingredients, like avocado or coconut milk, to replace the texture that animal ingredients tend to provide." Her expanding empire is in New York, Los Angeles, and soon, Boston.
Or Superiority Burger, the more masculine veggie burger spot that the punk rock drummer and former pastry chef at Del Posto, Brooks Headley, opened on East 9th Street last summer. Both the burger and the "Sloppy Dave" are apt copies of the real thing—minus the guilt factor.
Compared to an identical burger made from cow, producing the Impossible Burger requires a quarter of the water, a twentieth of the land, and only an eighth of the greenhouse gas emissions, according to a lifecycle analysis conducted by Impossible Foods. And for those hoping to treat their bodies as well as the environment, eating vegan is also undoubtedly healthier.
"Eating vegan naturally eliminates all saturated fats and significant amounts of cholesterol from one's diet, which reduces the risk of heart disease, obesity, type 2 diabetes, and high-blood pressure," said Coscarelli. "When you're eating vegan, it's true what they say: food is medicine!"
So, how does this Impossible Burger taste? I thought it was a good burger made all the more satisfactory because I knew I wasn't actually consuming meat. It tasted like a burger. But also not. Or, as Chang put it, "I don't know how to describe it other than tasty."