In Latest Leak, Noted Beauty Expert Donald Trump Attacks Woman's Makeup
"I mean her skin, she needs some serious f**kin' dermatology," Donald Trump says in the latest purported leak from a television appearance.
---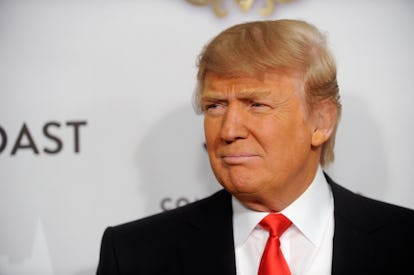 WireImage
It is the year 2016. Rising sea levels threaten to swallow up American land. An entire American city is still without a safe drinking supply. The country's list of challenges includes everything from A to Zika.
Yet a major October scoop in the presidential election involves uncovering the fact that one of the candidates once criticized a woman's makeup, and it's actually relevant to one of the campaign's major storylines.
[The Huffington Post claims to have obtained transcripts from unaired footage from The Apprentice](http://www.huffingtonpost.com/entry/donald-trump-apprentice-transcript_us_57fbc511e4b0e655eab65823) during which Trump goes on a three-minute diatribe about the quality of some woman's skin and makeup. Should you doubt the veracity of the HuffPo's journalism, don't worry. Cyndi Lauper is vouching for the scoop's authenticity.
Amidst reports that there are hours of potentially controversial unaired footage of Donald Trump from his time on The Apprentice (including, at least one person who says he dropped racial slurs in conversation), HuffPo laid out the transcripts of a scene from the 9th season of the show, a celebrity edition that featured stars like Lauper, Sharon Osbourne, and Brett Michaels. In the episode, the contestants were teamed with giving a makeover to two up-and-coming country musicians (one male, the other female).
When shown a picture of the female musician, Trump criticized her skin. Apparently, he's almost as obsessed with skin as he is America's "third world" airports.
"I assume you're gonna leave this off, don't put this shit on the show, you know. But her skin, her skin sucks, okay?" he says of the musician named Emily. "I mean her skin, she needs some serious fuckin' dermatology."
According to Lauper, she tried to explain to Trump that the musician was wearing stage makeup in the photo, and that's why her skin appears to be dry. The back-and-forth of Trump obsessing about the woman's skin apparently went on for three minutes.
When guest judge Trace Adkins declared that he liked the makeover of the female musician better, Trump interjected.
"You're obviously not a skin man," Trump replied. He later said, "I wish I wasn't."
Skin man? Who even knew that was a thing?
At another point, Trump assures everyone is not gay, but that doesn't mean he can't appreciate a man with healthy skin.
"Personally, I am, as you probably heard, not a gay man, but I think he's better looking that [sic] Emily okay?" Trump says of the male contestant.
On top of the devastating Trump leak on Friday, it's not helping Trump build a case that he respects women. Granted, this was a makeover challenge, but it's not like the contestants would have been responsible for the woman's skin. Of course, if Trump dismissed the leak from Friday as "locker room talk," perhaps the spin on this one will be spun as merely "powder room talk."