In Other News: Kendall Jenner's Fashion Domination Continues Unabated
Jenner, the model of the moment, is the latest face of La Perla, and here's some exclusive behind the scene images to take your mind off the election.
---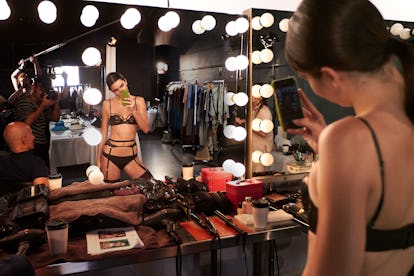 A lot may be uncertain in the world today, but, hey, at least Kendall Jenner's domination of high fashion continues undettered. She's gone and nabbed herself a starring role in La Perla's latest campaign. So at least that's something, and, maybe if only for a moment, we can all pretend this is a normal day by doing what so many of us usually do: look at pictures of Kendall Jenner.
The model of the moment was handpicked by the Italian house's newly installed creative director Julia Haart to star in its latest Ready To Wear campaign, which is meant to represent a sort of woman's liberation. Ironic, isn't it?
"This campaign represents the marriage of La Perla's founding principles with the wants and needs of a modern woman," Haart said. "To marry [our] in lingerie and our unparalleled knowledge of women's bodies, with the freedom that the modern woman desires…I want to liberate women from the idea that there is a compromise when it comes to comfort or beauty."
The ad, shot by Steven Klein, also feature La Perla veterans Isabeli Fontana and the brand's Far East ambassador Liu Wen. Klein's intensely colored images were meant to highlight the distinct allure of each model.
See behind the scenes photos of Jenner as well as the full campaign:
Kendall Jenner Behind the Scenes of Her La Perla Shoot
This may be Jenner's first campaign with La Perla, but she's a longtime fan of the line. She's been spotted out shopping at La Perla's boutique in L.A. with bestie Gigi Hadid, and caused a sensation when she wore La Perla's Carioca bra under a sheer top at the 2014 MTV Video Music Awards.
Watch Kendall Jenner take W's Screentest: