In Palm Beach, More is Always More, at Least at the New Haute Bohemia Figue Shop
Stephanie von Watzdorf's gypset brand Figue has opened its doors in sunny Palm Beach and it's a welcome dose of bohemian style on Worth Avenue.
---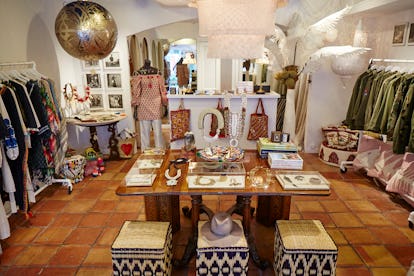 Photo by Andrew Urban.
"I love the chic old world feeling of Palm Beach," said Stephanie von Watzdorf, just after she'd returned to New York from a whirlwind trip around Kenya. Von Watzdorf, a Parsons School of Design graduate, opened her brand Figue five years ago as an offering of eclectic and luxurious season-less separates, cultivating stores in outposts where the jet set idle, like New York's Nolita, East Hampton, and, now, Palm Beach in Florida.
"The collection lends itself to that lifestyle," she added, and she couldn't be more accurate. "I'm inspired by the mixing of cultures and different travel destinations, usually places I have visited. I like the mix of different destinations and ideas." Her fusion seems to be working.
Her newest shop, located in the historic Via Mizner (the 1920s-era European-style pedestrian village with terra cotta house that many a luxury shop call home), offers the brand's resort collection–think kaftans, printed dresses–which was inspired by fashion favorite Stevie Nicks, as well as Egyptian and Californian deserts in the '70s.
Von Watzdorf is a walking advertisement for her brand, in the absolute best way possible. She mixes and matches her prints with ease, she's always seeking out a new interesting place to visit, and she always is piling on jewelry–perhaps its vintage, perhaps its from one of the designers she now carries in her new store. "It adds interest or intrigue to a military jacket or the pattern of a dress," Von Watzdorf explained. "I have always been into the idea of 'more is more.' I like things that are interesting and eclectic and unexpected."
Tribes Ardent Figue fans, who embrace the store's electric concoction of ready-to-wear and home goods, shoppers on Worth Avenue browsing past Hermès, Calypso St. Barth and Gucci, and the likes of India Hicks and jewelry designer Rebecca de Ravenel.
The Mix Figue mainstays like embellished military jackets and kaftans, as well as jewelry by Sara Beltran and Carolyn Roumeguere. Ali Lamu basket bags and heart pillows, and home pieces from Jennifer Garrigues round out the offering.
Best Sellers Longer printed dresses, military jackets, and shoes are shoppers' must-haves.
Price point Small bags like the evil eye pouch clock in at $95 and prices can go up to $2,600 for a one-of-a-kind embellished military jacket. Kaftans and dresses range from about $400 through $600. Pièce De Résistance "It's hard to pick one thing!" said von Watzdorf. "My favorite piece from my collection that is in the store now is the Elettra kaftan. It's embellished with pom poms and can be worn in so many different ways. I was just in Kenya and it was my go to piece on the trip." For those who prefer to shop from home Figue.com
Say Yes: 10 Over-the-Top Engagement Rings for a Glamorous Bride
Emma Stone, Natalie Portman, Amy Adams, and More Stars of the Year's Best Films Get Really, Really Into "I Will Survive" by Gloria Gaynor
Emma Stone, Natalie Portman, Amy Adams, and More Stars of the Year's Best Films Get Really, Really Into "I Will Survive" by Gloria Gaynor