In Remembrance: The Fashion Figures We Lost in 2016
In 2016, fashion lost Franca Sozzani, Bill Cunningham, Sonia Rykiel, China Machado and other beloved titans of the industry.
---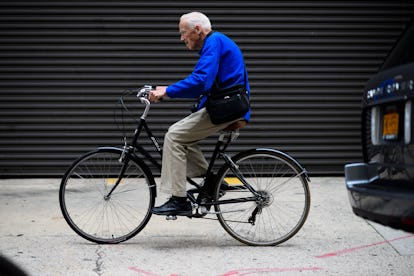 2016 was a hard year all around. It was the year we lost both David Bowie and Prince. It was also the year we lost groundbreaking fashion designers like Sonia Rykiel, the queen of knitwear, and André Courrèges, the master of fashion futurism. Richard Avedon muse China Machado, America's first non-white supermodel, left us well. The fashion press said goodbye to both Bill Cunningham, the father of street style photography, Franca Sozzani, the iconic and ever forward-looking editor of Italian Vogue, and Aileen Mehle, the sharp-tongued gossip columnist known as "Suzy."
Under regular circumstances, the world of fashion is one that always looks forward to what's next, but it is not without sentiment, especially when it loses one of its own. Here we remember the designers, models, photographers and journalists and others–each an icon in their own right–who made their mark in the world of fashion and style before they left us this year.
The Fashion Figures We Lost in 2016
Bill Cunningham, 1929-2016. The father of all street style photographers and his trusty camera obsessively documented both New York society and what people wore on the streets for decades, most notably for The New York Times.

Yu Fujiwara
Franca Sozzani, 1950-2016. The Italian Vogue editor redefined what a fashion magazine could be.
David Bowie, 1947-2016. The music legend also helped to push the boundaries of gender through his spectacular wardrobe.
Sonia Rykiel, 1930-2016. The French fashion designer began her career simply because she couldn't find sweaters she wanted to wear. She soon became the heralded "queen of knitwear."

Gamma-Rapho via Getty Images
China Machado, 1928-2016. The Richard Avedon muse was the first non-white model to appear on the cover of a major American fashion magazine.

COPYRIGHT ©2010 THE CONDÉ NAST PUBLICATIONS. ALL RIGHTS RESERVED.
Prince, 1958-2016. The purple one had a style all his own, and maintained close friendships with both Gianni and Donatella Versace.
Andre Courreges, 1923-2016. The French designer was the master of 1960's futurism.

ullstein bild via Getty Images
Zsa Zsa Gabor, 1917-2016. The socialite and model was the proto-celebutant.

Getty Images
Nancy Reagan, 1921-2016. During her tenure as First Lady, Reagan maintained a marvelous wardrobe and a busy schedule on both the Washington and New York social scenes.
James Galanos, 1924-2016. The American Couterier's list of faithful clients included Marilyn Monroe, Nancy Reagan, Ivana Trump, Jackie Kennedy, Lady Bird Johnson, Diana Ross, Judy Garland and more.

Getty Images
Betsy Bloomingdale, 1922-2016. A queen bee of the "ladies who lunch" set, Bloomingdale was married to a heir to the department store fortune.

Horst /Condé Nast Archive
Richard Nicoll, 1977-2016. The Australian-born fashion designer became a mainstay of the young British fashion scene.

Getty Images for Vodafone
Zaha Hadid, 1950-2016. The world's most honored female architect also found time for frequent collaborations with the world of fashion.
Aileen Mehle, 1918-2016. Better known by her pen name "Suzy Knickerbocker," the gossip columnist spread the dirt (or kept the secrets, depending on her mood) of New York Society's, most recently in the page of W.

Condé Nast via Getty Images
Marta Marzotto, 1931-2016. The Italian fashion icon began life in an orphanage, but after a career as a model she married a Count and became a fashion designer in her own right.

Getty Images for Louis Vuitton
Joan Helpern, 1926-2016. – Along with husband David, Helpern owned and designed Joan and David Shoes, high fashion footwear for women on the go.

FilmMagic
Fred Hayman , 1925-2016. When he opened Giorgio Beverly Hills it was the first high-end department store on Rodeo Drive, thus earning him the nickname "Mr. Rodea Drive."

Getty Images