It's About Time We Took Diane Kruger Seriously as an Actress
Her new film In the Fade could have her heading for her first Oscar nomination.
---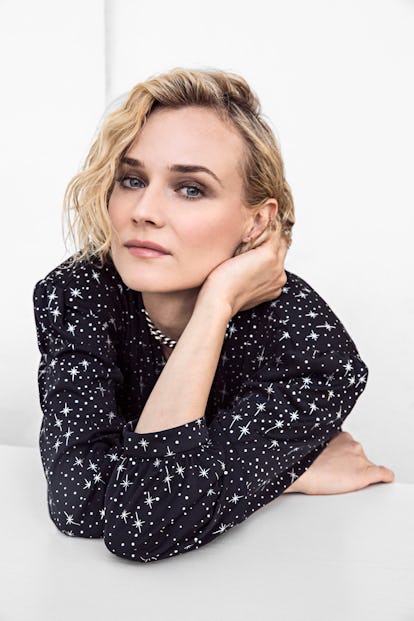 Director Fatih Akin first became aware of Diane Kruger like most of us: via her role as the archivist Dr. Abigail Chase in National Treasure, the 2004 Nicolas Cage film-turned-meme. Only, unlike most, he was not sold: "I was definitely not the audience for a film like that," he told Indiewire earlier this week. Several years later, he saw her in Inglourious Basterds, the Quentin Tarantino-directed movie in which she plays Bridget von Hammersmarck, a celebrated actress in Nazi Germany. The two met a couple times at the Cannes Film Festival and got to talking. And then, last year, Akin cast her in In the Fade, his drama about a woman, played by Kruger, whose husband and son are killed by a neo-Nazi suicide bombing. It is, perhaps remarkably, Kruger's first fully German-language role—considering she was born in West Germany in 1976—and it brought her back to Cannes earlier this year, when she claimed the festival's Best Actress prize. She's come a long way since that Nicolas Cage movie.
Since Kruger won the top acting prize at Cannes, she's been gradually amassing substantial Oscars buzz: "Much of Kruger's remarkable portrait of love and grief is wordless, with the power to transcend both subtitles and national boundaries," New York Magazine's Vulture wrote in May, assessing her potential to earn an Academy Award nomination for the role. Variety wrote the film rested on "Kruger's incandescence," while Indiewire described it, in a separate story, as "the brightest point of her career."
Frankly, the recognition is past due. Since she broke out as Helen of Troy, the face that launched a thousand ships, in the 2004 Orlando Bloom-fronted epic Troy, Kruger has quietly amassed an impressive array of roles that span three languages and two continents. But she's earned few mainstream awards for her work; in 2010, she was nominated for the Screen Actors Guild award for best supporting actress for Inglourious Basterds and won, along with the rest of the cast, the award for best ensemble, but she has been nominated for neither a Golden Globe or nor an Academy Award. Finally, buoyed by Cannes's stamp of approval and the accompanying swell of critical approval, 2018 could be her year.
And yet it's in no small part due to Kruger's performance that, for example, the much-maligned and National Treasure (which I love) worked: She plays the straight man to the straight man, the brilliant, academic foil to Nicolas Cage's corny hero. She's not going to steal the Declaration of Independence, but she's certainly going to make sure they treat it with the proper care once it's done. She has a knack for doing deadpan in a world of camp. But these films don't work to her advantage when it comes to critical appeal; Troy landed on precisely no one's best-of lists.
Kruger, who plausibly plays Helen of Troy simply because she is that beautiful, is frequently cast as the object of desire. Take, for example, Mr. Nobody, in which she plays the love interest to Jared Leto, or Disorder, in which she stars as the trophy wife of a Lebanese arms dealer. Yet these women, who could be just that—objects—are carved into multidimensional characters with Kruger's treatment. Many, though not all, of the roles that fit into this category are supporting; Kruger has also demonstrated a preference for smaller, more interesting roles in larger films, which might help explain why acclaim in the form of shiny trophies has evaded her for much of her career.
But she also frequently dips out of view of American audiences, and given that the biggest awards of the season largely highlight English-language filmmaking, this could be among her biggest hindrances. In the Fade is her first role written entirely in German, but she has spent substantial time in the industry in France—2012's Les adieux à la reine, which translates to Farewell, My Queen, in which she stars as Marie Antoinette as seen through the eyes of a lady-in-waiting, played with convincing naïveté by Léa Seydoux, is among her best work. (Again, Kruger plays the object of desire, though she herself also does the desiring: The film focuses on the rumored affair between Marie Antoinette and the Duchesse de Polignac.) It's the rare film, though, that both successfully crosses the Atlantic and bridges the language divide to arrive with mainstream audiences—rare enough that examples like Blue Is the Warmest Color, Amour, and Elle still stand out among recent Oscar nominees.
"I didn't have this prejudice that a lot of people in Germany had about her—that she's not a real actress," director Akin told Indiewire of his previous impression of Kruger, before they made In the Fade. Given the amount of time it's taken for Kruger to get her dues—she's been an active actor for more than 15 years now—Akin's peers are not alone in that impression, at least until now.
Still, the Cannes Film Festival best actress prize is by no means an indicator of Academy approval: In the past five years, only Rooney Mara has graduated to an Oscar nomination, for best supporting actress in 2015's Carol. To her advantage, though, Kruger has been candid about the emotional toll of playing the role: "I feel like I nearly died from it," Kruger told W at Cannes. (Jennifer Lawrence, who has spoken at length about the physical costs of Mother!, has also been predicted among the nominees, and it's been said that Leonardo DiCaprio won Best Actor for The Revenant in part because of the intense physical transformation wrought by the part.)
"I feel I gave everything to this film," Kruger said.
Related: Diane Kruger's Latest Film Explores How to Cope After a Terrorist Attack
Diane Kruger doesn't know what it means to be a muse:
Diane Kruger Is the Queen of the Red Carpet
Diane Kruger attends the Golden Globes.

Dan MacMedan
Diane Kruger attends the Inglourious Basterds premiere held at the Palais Des Festivals during the 62nd International Cannes Film Festival on May 20, 2009 in Cannes, France.

Michel Dufour
Diane Kruger attends the amfAR Cinema Against AIDS 2009 benefit at the Hotel du Cap during the 62nd Annual Cannes Film Festival on May 21, 2009 in Antibes, France.

Dominique Charriau
Diane Kruger attends the Palme d'Or Award Closing Ceremony held at the Palais des Festivals during the 63rd Annual Cannes Film Festival on May 23, 2010 in Cannes, France.

Sean Gallup
Diane Kruger attends the Costume Institute Gala Benefit to celebrate the opening of the "American Woman: Fashioning a National Identity" exhibition at The Metropolitan Museum of Art on May 8, 2010 in New York City.

Rabbani and Solimene Photography
Diane Kruger during 2007/2008 Chanel Cruise Show Presented by Karl Lagerfeld at Hangar 8 in Santa Monica, California, United States.

Jason Merritt
Diane Kruger during 2007 Vanity Fair Oscar Party Hosted by Graydon Carter – Arrivals at Mortons in West Hollywood, California, United States.

Gregg DeGuire
Diane Kruger attends the "Alexander McQueen: Savage Beauty" Costume Institute Gala at The Metropolitan Museum of Art on May 2, 2011 in New York City.

Kevin Mazur
Diane Kruger during The 78th Annual Academy Awards – Arrivals at Kodak Theatre in Hollywood, California, United States.

Dan MacMedan
Diane Kruger arrive at the 82nd Annual Academy Awards at the Kodak Theatre on March 7, 2010 in Hollywood, California. on March 7, 2010 in Hollywood, California.

Steve Granitz
Diane Kruger arrives at the 15th annual Critics' Choice Movie Awards held at the Hollywood Palladium on January 15, 2010 in Hollywood, California.

Jason Merritt
Diane Kruger arrives at the 2012 Vanity Fair Oscar Party hosted by Graydon Carter at Sunset Tower on February 26, 2012 in West Hollywood, California.

John Shearer
Diane Kruger attends the 16th Annual Screen Actors Guild Awards at The Shrine Auditorium on January 23, 2010 in Los Angeles, California.

Steve Granitz
Diane Kruger attends the Opening Ceremony and "Moonrise Kingdom" Premiere during the 65th Annual Cannes Film Festival at the Palais des Festivals on May 16, 2012 in Cannes, France.

Venturelli
Diane Kruger attends the "Amour" Premiere during the 65th Annual Cannes Film Festival at Palais des Festivals on May 20, 2012 in Cannes, France.

Venturelli
Diane Kruger attends the Closing Ceremony & Therese Desqueyroux Premiere during the 65th Annual Cannes Film Festival at Palais des Festivals on May 27, 2012 in Cannes, France.

Venturelli
CDiane Kruger arrives at 2012 amfAR's Cinema Against AIDS during the 65th Annual Cannes Film Festival at Hotel Du Cap on May 24, 2012 in Cap D'Antibes, France.

Venturelli
Diane Kruger arrives at Lynn Hirschberg celebrates W's It Girls with Lancome and Dom Perignon at A.O.C. on January 11, 2014 in Los Angeles, California.

John Sciulli
Diane Kruger attends the 72nd Annual Golden Globe Awards at The Beverly Hilton Hotel on January 11, 2015 in Beverly Hills, California.

Jason Merritt
Diane Kruger attends "The Sea Of Trees" Premiere during the 68th annual Cannes Film Festival on May 16, 2015 in Cannes, France.

George Pimentel
Diane Kruger attends the "China: Through The Looking Glass" Costume Institute Benefit Gala at the Metropolitan Museum of Art on May 4, 2015 in New York City.

Dimitrios Kambouris
Diane Kruger attends the 2015 CFDA Awards at Alice Tully Hall at Lincoln Center on June 1, 2015 in New York City.

Taylor Hill
Diane Kruger attends the opening ceremony and premiere of 'Everest' during the 72nd Venice Film Festival on September 2, 2015 in Venice, Italy.

Ian Gavan
Diane Kruger attends the 2014 Vanity Fair Oscar Party hosted by Graydon Carter on March 2, 2014 in West Hollywood, California.

David Livingston
Diane Kruger attends a premiere for 'Black Mass' during the 72nd Venice Film Festival on September 4, 2015 in Venice, Italy.

Vittorio Zunino Celotto
Diane Kruger attends the LACMA Art + Film Gala honoring Alejandro G. Iñárritu and James Turrell and presented by Gucci at LACMA on November 7, 2015 in Los Angeles, California.

Kevork S. Djansezian
Diane Kruger attends amfAR's Inspiration Gala in Los Angeles on September 9, 2015 in Hollywood, California.

Amy Graves
Diane Kruger attends The Weinstein Company and Netflix Golden Globe Party, presented with FIJI Water, Grey Goose Vodka, Lindt Chocolate, and Moroccan Oil at The Beverly Hilton Hotel on January 8, 2017 in Los Angeles, California.

JB Lacroix
NEDiane Kruger attends the "Rei Kawakubo/Comme des Garcons: Art Of The In-Between" Costume Institute Gala at Metropolitan Museum of Art on May 1, 2017 in New York City.

Dia Dipasupil
Diane Kruger arrives at the amfAR Gala Cannes 2017 at Hotel du Cap-Eden-Roc on May 25, 2017 in Cap d'Antibes, France.

Andreas Rentz