Twitter Imagines What Kind of Note Trump Could Have Possibly Left Biden
"I'm sorry. I can't. Don't hate me."
---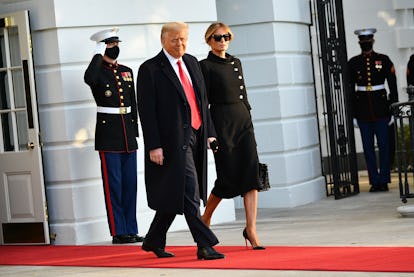 (Photo by MANDEL NGAN/AFP via Getty Images)
The first meme of Inauguration Day 2021 is here. As Joe Biden and Kamala Harris prepare to take the oath of office, the internet is giving us some much-needed laughs in the form of one of the most boring presidential traditions: the successor note. Funny people online never fail to deliver during grand televised events.
PBS NewsHour White House correspondent Yamiche Alcindor confirmed that Donald Trump did indeed leave a letter for Joe Biden in the Oval Office. The news was also confirmed by New York Times Trump whisperer Maggie Haberman, though the contents of the letter are not yet known. We're guessing it includes a lot of words in caps and exclamation points.
Naturally, the internet took this news and ran with it.
It is customary for the departing president to leave a handwritten note for the incoming president. The successor's note is traditionally placed on the Resolute Desk, and will be the first thing the new president sees when he sits down in the Oval Office. CNN has a round-up of recent president notes; Barack Obama kept it classy in his letter to Trump, writing "Congratulations on a remarkable run. Millions have placed their hopes in you, and all of us, regardless of party, should hope for expanded prosperity and security during your tenure," when he could have written "Dude, you suck as a human being. You really do."
In more scandalous note news, outgoing FLOTUS Melania Trump reportedly didn't write her own thank-you notes to the White House staff. She designated that task to an aide, but tried to pass it off like she wrote them herself.
CNN reporting that Melania Trump had an assistant write thank you notes to the White House household staff (cooks, housekeepers, butlers), signing Mrs. Trump's name to the letters, as if the First Lady wrote the notes herself. Melania stays embarrassing herself.
Originally tweeted by katie rosman (@katierosman) on 01/20/2021.