From Tomboy to Top Model: Meet Rising Star India Makailah Graham
India Makailah Graham makes her modeling debut—looking just like a seasoned pro.
---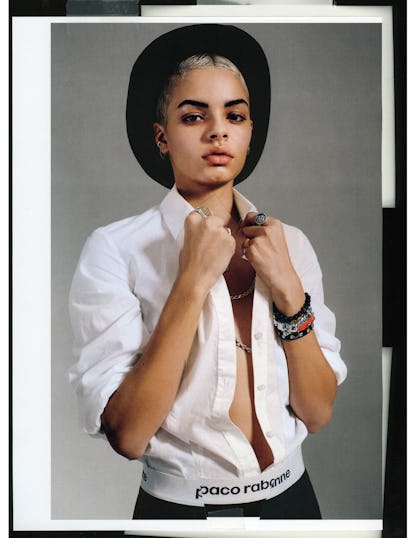 Photographs by Collier Schorr, Styled by Edward Enninful
India Makailah Graham, the winner of this year's Wmag and IMG Models' talent search, had plenty going for her: soft features, doelike brown eyes, a platinum pixie cut, and a tomboyish style. But there was also perhaps a bit of divine intervention at play in her selection. What wasn't immediately apparent to W's Creative and Fashion Director, Edward Enninful, W's then–Bookings Director, Erin Simon, the photographer Craig McDean, and the scouting team from IMG when they singled her out from the pack, was that her initials are, in fact, I.M.G.—same as the agency that has now signed her and is working to change her life.
India Makailah Graham Makes Her Modeling Debut
Alexander McQueen coat; Saint Laurent by Anthony Vaccarello trousers; (Necklaces, from top) Hoorsenbuhs, LJ Cross; (Rings, right hand, from top) John Hardy, DAvid Yurman; (Rings, left hand, from top) David Yurman, Tiffany & Co., stylist's own; (bracelets, from top) Chrome Hearts, Hoorsenbuhs, Chrome Hearts. (left ear) Catbird earrings; Paco Rabanne shoes (All throughout).

Photographs by Collier Schorr, Styled by Edward Enninful
Giorgio Armani jacket and shirt; pin from Camilla Dietz Bergeron. Capas headwear hat from JJ Hat Center; (right ear, from top) Anita Ko ear cuff, Catbird earrings (all throughout).

Photographs by Collier Schorr, Styled by Edward Enninful
CH Carolina Herrera shirt; Paco Rabanne briefs; Hoorsenbuhs long necklace; (rings, right hand, from top) JOhn Hardy, David Yurman; (Rings, left hand, from top) David Yurman, Tiffany & Co., Tiffany & Co., Stylist's own; (bracelets, from top) Chrome Hearts, Chrome Hearts, Hoorsenbuhs, Hermes, Hermes.

Photographs by Collier Schorr, Styled by Edward Enninful
Valentino shirt; Paco Rabanne shorts; Goldsign trousers; Hoorsenbuhs long necklace; (right hand) David Yurman ring; (Rings, left hand, from top) David Yurman, Stylist's own; Chrome Hearts bracelet. Beauty note: MilK Makeup Blur Stick is like a filter for your complexion.

Photographs by Collier Schorr, Styled by Edward Enninful
Gucci jacket; Brooks Brothers boxers; Paco Rabanne briefs; Calvin Klein Underwear briefs; (Necklaces, from top) LJ Cross, Me&Ro, stylist's own, Hoorsenbuhs; (Right hand) John Hardy ring; (rings, left hand, from top) David Yurman, Chrome Hearts, David Yurman; L.L.Bean socks.

Photographs by Collier Schorr, Styled by Edward Enninful
Saint Laurent by Anthony Vaccarello jacket and trousers; (Necklaces, from top) LJ Cross, Me&Ro, stylist's own, Hoorsenbuhs; (rings, right hand, from top) John Hardy, Chrome Hearts, David Yurman; (rings, left hand, from left) stylist's own, Tiffany & Co., Tiffany & Co., David Yurman, Chrome Hearts, David Yurman; (bracelets, from top) Chrome Hearts, Chrome Hearts, Hermes.

Hair by Holli Smith for Bumble and Bumble at LGA Management; Makeup by Yadim at Art Partner; Manicure by Alicia Torello for Dior at the Wall Group. Set design by Kadu Lennox at Frank Reps. Model: India Makailah Graham at IMG Models.

Produced by Hen's Tooth Productions; Retouching: Two Three Two; Digital Technician: Jarrod Turner; Photography assistants: PJ Spaniel, Jon Ervin, Jeff Rose; Fashion Assistants: Ryann Foulke, Dena Giannini; Hair assistant: Michiko Yoshida; Makup Assistant: Janessa Pare; Set-design assistant: Holli Featherstone

Photographs by Collier Schorr, Styled by Edward Enninful
This story was not just the W debut for the 19-year-old Michigan native but also her first photo shoot ever. "I was told to stop tweezing my eyebrows and watch my shampoo use," Graham said with a laugh of the tips she received on set. (In the past, her curly hair has been mint green, black, maroon, white, and pink.) "I was also told to be the character I'm shooting for and not myself. That advice will go a long way." And while Enninful's very specific references—Ray Petri, Buffalo style, and the heyday of the British magazine The Face—may have been lost on Graham, the vibe was definitely not. "As a kid, I was very tomboyish, which is why this shoot was so cool for me to start with," she said. "It reminded me of myself when I was younger. I was always wearing my brother's clothes or walking around in basketball shorts. It really hit home."
Watch India Makailah Graham discover she's the winner of the #WmagModelSearch: