Indie Musician Vérité Stands out in the Hamptons Crowd
The 26-year old singer Kelsey Byrne performs at a Tasting Table event at Gurney's in Montauk.
---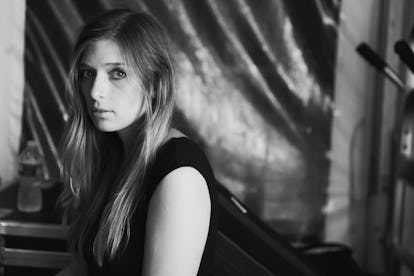 Matteo Prandoni/BFA.com
Settled on a white couch on a deck overlooking the ocean at Gurney's resort in Montauk, the singer Kelsey Byrne, better known as Vérité, doesn't exactly look like she belongs. Wearing black Cienne trousers, a black American Apparel bodysuit, and black platforms by AllSaints ("they're the stage boots, the most comfortable four-inch heels you'll ever wear"), she stands out in a sea of printed summer dresses and linen pants.
"It's definitely an interesting vibe, I think I spent most of the day wearing all black, people watching and going, 'Oh I really don't fit in,'" said Byrne. "But also thinking, 'This pool is the perfect temperature.'"
The rest of her North American tour, following the release of her third EP, Living, in May, will take her to perhaps more expected locations: Dallas, Los Angeles, Phoenix, Austin. It was an event thrown by Tasting Table, the food-focused website that's been popping up all over the Hamptons this summer, that drew her to Montauk.
"I'm not very good at vacationing or relaxing or planning any of that for myself," said Byrne, who lives in Brooklyn. "So I'm in the habit piggy-backing off of gigs, and deciding to stay an extra day."
Iron Chef Marc Forgione prepared Saturday's meal, served buffet-style to a slew of 20-somethings who seemed infinitely younger than the 26-year-old Byrne. Forgione, too, was less than inspired by his setting. "For a minute I thought I was going to do something with lobster, which is obviously inspired by Montauk, but then a BBQ idea took over," he said. The result: excellent hanger steak and a BBQ sauce-infused potato salad concoction.
"I've eaten a lot of food. I don't usually eat so close to when I play, but it's kind of now or never," said Byrne. "I ate some short rib sliders; they were the best."
Montauk isn't the only place Byrne sticks out. She's not signed to a label, and has no foreseeable plans to — all three EPs so far have been funded by a waitressing gig at Applebee's in Times Square. "I moved to New York when I was 21 and worked between 40 and 70 hours a week. Then I invested it all," she said. "It was really just a hustle. But I was kind of raised to work like that, so to me it seemed very normal and natural."
It doesn't come without a downside: "I used to play shows in D.C. and then drive back to New York to work at 6 a.m. So there are those moments, and you just really need to power through them. Eventually it builds on itself."
Likely, those moments are what gives her a down-to-earth appeal that's helped drive Vérité's early success. There's also, of course, her synth-pop sound. It had every guest on the dance floor at Gurney's, and likely would have even if ticket prices had not included three cocktails a piece.