The Key To Traveling Like a Rockefeller? Skip the High Heels and Bring an Extra Bag
Thanks to Paravel, Indre Rockefeller's new brand of luxury travel goods, it just got a whole lot easier.
---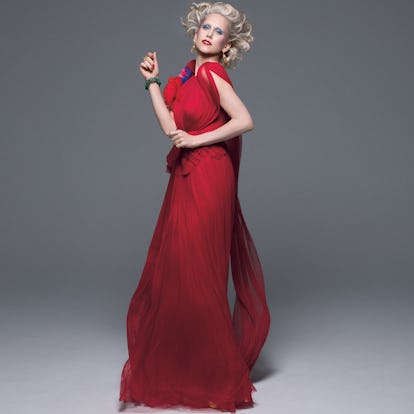 Photography by Inez Van Lamsweerde and Vinoodh Matadin, styled by Edward Enninful.
Indre Rockefeller, the former Moda Operandi and Delpozo executive, has always been an expert traveler. "The love of travel was instilled in me by my parents at a young age," the ballet dancer-turned-fashion insider explains. "My family is Lithuanian so we often traveled to Vilnius when I was growing up. As a child, I always found it a fascinating combination of the exotic and the familiar."
Now, Rockefeller is combining her love of travel with her expertise in fashion for a new venture: Paravel, a luxury, direct-to-consumer travel brand she co-founded with Andy Krantz. Here, Rockefeller shares her go-to beauty products, the best travel advise she's ever received and more.
How did you decide to launch Paravel? As passionate travelers and consumers we felt the travel industry was forcing us to choose between design and function when it came to travel gear. We set out to create a brand that incorporates innovative travel-proof materials, meticulous construction, and delightful design to meet the needs of today's consumer, who is always on the go. Our goal is to offer beautiful, practical things, all at an honest price.
What were the struggles you had with luggage in the past? I couldn't find luggage and travel accessories that were functional, travel-proof, and lightweight, but also stylish, all at an honest price. The idea for Paravel was born out of this gap in the market.
What is your favorite airport in the world? I have a soft spot for the Helsinki airport. I lived in Helsinki for a year when I was dancing ballet professionally and always found it delightful to fly through and easy to navigate.
What airline has the best food? Singapore Airlines
What is your go to travel outfit? No matter where I am traveling, I always grab my Paravel Crossbody Capsule and my Prabal Gurung two-tone cashmere wrap.
And for shoes? In the winter, I love to travel in Aquazzura's Heilbruner boot.
What's something you would never wear on a plane? High heels. I need to be able to get around easily while traveling.
What beauty products do you always travel with? I love products that do double duty so I always throw Natura Bissé's The Cure Sheer cream and The Cure Sheer eye cream in my Paravel Pochettes for serious hydration and light coverage in one.
What is your preferred mode of travel? My favorite mode of transportation that I've experienced has to be Japan's bullet train.
What is your favorite hotel in the world? The Treehotel in Harads, Sweden is at the top of my hotel bucket list.
What is the one item you always carry when traveling? I travel everywhere with my Paravel Crossbody Capsule bag. I designed it as the effortless everyday essentials bag that could also stand up to the wear and tear of travel.
What is the best piece of travel advice you have ever received? My mother told me to always have an extra bag tucked away when I travel, in order to make room for the unexpected.
Watch a video interview with Indre Rockefeller: