Inès de la Fressange's Guide to Doing Paris Like a True Frenchwoman, Clichés Included
From "the whole fashion world"'s favorite healthy café to the Chanel-style paradise at the Ritz, just in time for couture week.
---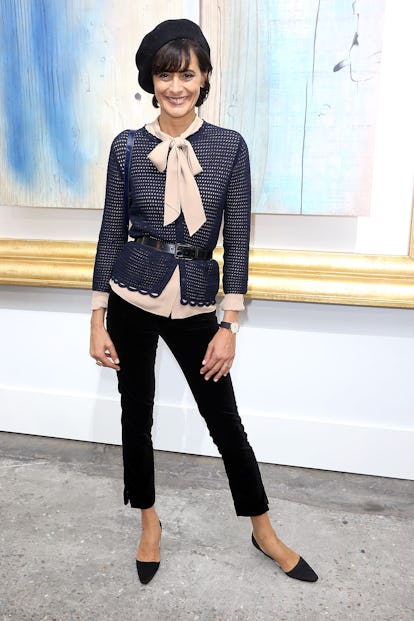 Michel Dufour/WireImage/Getty Images
The model and author Inès de la Fressange, she of effortless style and fabulous friends like Karl Lagerfeld, is decidedly very, very French. In a break with clichés, though, she's also very friendly and generous with her insider knowledge, which she shares in Parisian Chic Look Book: What Should I Wear Today?, her new style handbook with Sophie Gachet that's out via Flammarion this spring. Just in time for the couture shows in town this week, she gave us a preview of her vie parisienne with her insider's guide to the city, here.
Describe the neighborhood you live in: I live next to the Panthéon in the fifth arrondissement. There are many schools and universities, so the crowd is quite young. But it's the oldest neighborhood of Paris, with small streets and old buildings.
Arrondissement of choice: I would suggest a visit to the Marais because all the streets are stunning with many 17th- and 18th-century houses. Wherever you go, it's gorgeous.
Favorite restaurant: Au Près on rue du Dragon is very good; Cyril Lignac, who is a famous chef, is the owner. It's gastronomic but cozy and not too expensive.
Best spot for a date-night dinner: FOOD at 26 rue St. Paul. "Japanese-style tapas." Hmmm… it looks weird to say it like that but it's excellent. You will feel light and healthy so it's better for the rest of the evening. There's also Chez Paul, on place Dauphine, a real vintage Parisian restaurant. The place and the surroundings are very romantic. The "cliché" of Paris!
Favorite place to see art: Musée du Luxembourg. There is always something interesting happening there. (Fantin-Latour at the moment).
Favorite stores: Merci for clothes, interiors, and presents; Marie-Hélène de Taillac and Whitebird for jewelry; Astier de Villatte for tableware; Sœur for teenagers (but fine for women, too); Roger Vivier for shoes; and my boutique, of course! Ines de la Fressange Paris at 24 rue de Grenelle—it's a bazaar, so for all kinds of things.
Best place to vintage/thrift shop: Thanx God I'm a VIP at 12 rue de Lancry, or at the St. Ouen flea market, where Chez Sarah (18 rue Jules Vallès) is. The best in the world.
Favorite bar or nightclub to go out: My daughters love La Mano; personally, a late drink at Hôtel Costes is fine for me.
Favorite café: Clown Bar is a lovely place (114 rue Amelot in Oberkampf).
Favorite spa-cation: The Ritz pool has been redone, and it's a kind of Chanel-style paradise.
Favorite spot off the beaten path: Tea time in the Palais Royal gardens. Kitsuné just opened a café, but lingering in your seat in this untouched place is always great. And the Grand Véfour restaurant is a beaten path, but excellent and gorgeous nonetheless.
Best nature getaway: The Luxembourg Gardens. Literary and romantic .
Best spot to grab a glass of wine: Juvéniles at 47 rue de Richelieu. There are tapas also so you won't get drunk immediately!
Best recent discovery: I try to find one each Thursday for my newsletter. In the next one, I will talk about Maisie Café at 32 rue du Mont Thabor: health food where the whole fashion world goes.
Go-to travel outfit: 45RPM (at 1 rue d'Alger) are perfect because even wrinkled the clothes look gorgeous.
Local philosophy you live by: Paris, like Athens, is a capital of philosophy, so I can add a Greek address in Paris: Apriati (great jewelry, even for men) on rue St Honoré and rue du Four.
Any other tips or advice: Hmm… buy my books! [Laughs.]
See W's most popular videos: