Rapper and Beyoncé Protégé Ingrid Opens Up About Her First EP
After growing up with Beyoncé and co-writing "Love Drought," the Houston rapper finally releases her own EP, "Trill Feels," on Bey's Parkwood Entertainment.
---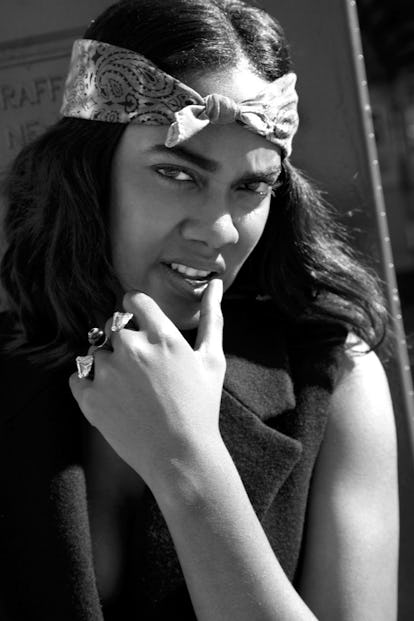 Ingrid by Ibra Ake for Parkwood Entertainment.
Love thy neighbor — and if you're Beyoncé, sign them to your record label. Rapper Ingrid Burley, who goes only by her first name, grew up in the same neighborhood as Beyoncé in the Third Ward before being signed to Parkwood Entertainment in 2015, along with Sophie Beem and sisters Chloe x Halle.
Ingrid's mother was close with Tina Knowles, and Beyonce's father, Matthew Knowles, signed Ingrid to his own label, Music World, as a solo rap artist when she was coming up. Ingrid, who is now 29, was determined to go her own way though, and moved to Brooklyn in 2010 to pursue her career. After three years of making ends meet by selling her paintings, she would co-write the hit "Love Drought" with Mike Dean for "Lemonade," which everyone would later mistake for a song about Beyoncé's marital strife. In reality, Ingrid was tapping into her frustrations with record label execs whom she claims lied to her. She's always spoken her mind, despite her position in the hyper-controlled BeyHive, and her new EP, "Trill Feels," which dropped Friday, is full of energy and personality. If there's one thing Ingrid's life story up until now illustrates, it's that the Knowles family knows she's got talent — and so does she.
What was it like growing up in Houston? It's a place that comes up a lot in your music. Growing up in Houston was really cool. I'm very close with my family — and it's a big family. Both my mom and my dad are one of five, so my aunts and my uncles have always been very involved in my life, and their kids as well. My grandfather was a musician — he played jazz — and my grandmother was a self-taught pianist and painter. Neither of them did anything major; my grandfather did gigs locally for years. I remember being a little girl and really admiring that. I guess that's probably where I first soaked in real, true music.
When did you move from Houston to Brooklyn? In 2010. I had been signed to an independent record label in Houston for five years, so I figured I had to get out and start fresh. I thought I had a shot, so I just went for it. I had $5,000 and any New Yorker knows that's really nothing. That literally lasted me three months. I really hit the ground running though when I got to Bed Stuy and I started selling my paintings. That was really the only trade that I had that I wasn't absolutely miserable doing. It helped me survive. But it was definitely hard. Some days were good, and others I wouldn't sell any art. If someone offered me $20 on the right day, I would take it. I hustled, but I'd always wanted to get to New York to lay the groundwork needed to solidify myself in the music business as a respected songwriter, performer, and artist.
What was your big break? I think that moment was probably when I signed to Parkwood. That was a dream come true to work with someone like Beyoncé, who I look up to. I'm super grateful for the position I'm in now.
You grew up across the street from Beyoncé in Houston. What's it like working with her now? To be completely honest, we haven't ever worked in the studio together, but it's more of a mentor relationship. I can't speak for anyone else, but everything I create she listens to and provides direct feedback on. It's a real, true, manager-to-artist or manager-to-writer relationship in the sense that she just listens to things and critiques them. She gives very specific direction and it's inspiring because she also has a knack for pairing you up with other creators. I really credit her for being a not only a great artist, but also a great manager and curator.
She's all about the work. You also wrote "Love Drought" for Beyoncé back in 2013 and it's actually about your own personal frustrations with making music. What's your writing process like? I've told the story about what inspired me to write "Love Drought," but at the end of the day it had absolutely nothing to do with Beyoncé. I wrote the song based on my feelings, and I think I was a little bit too much in my feelings! But it worked in my benefit, so … The lesson I learned writing that song for B. was that you can't go in trying to write something that you think people want you to say. At the end of the day, I don't think any artist in their right mind is going to turn to the person they're collaborating with and be like, "Listen, this is what's going on in my life." So many people want to feel like the lyrics are direct, and that's great, but I think that's what makes me a great songwriter. With all due respect, I'm not going in trying to make up a song that I think is going to be fitting. It has to be appropriate, but universally appropriate. I'm not thinking, "Let me go write something that's going to tell Beyoncé's life story," for example. I try to make something that's true to who I am as a creative and that I know personally resonates because of my intent and the effort I put into it. In terms of my process, every time I submit a song I pray. Like, please God, let this be the one! And sometimes you have one; sometimes you don't. I had a lot of dont's before I made an album.
Even if people were confused about the backstory, clearly they still felt something personal in the song. Do you get personal on your new EP? What I love about the platform that I have is that it's therapy. And I think that's a part of the art that's been lost recently with people making — no disrespect — singalong songs. Nowadays we have Genius, which offers us the meaning behind the lyrics because we can't understand what people are talking about! I have very clear thoughts everyday. I have very clear conversations everyday. There's no reason why my music shouldn't reflect that. I absolutely intend to be honest in my music and hopefully witty. I hope that in the future fans of mine are listening to my music and trying to find the hidden messages. I hope that people don't only think that I'm ever going to write on the subject matter of Beyoncé. Country music is my favorite genre, so my dream is to actually pen a country music hit.
What was going through your head when you were making your new EP, "Trill Feels?" I think I'm an overall misunderstood person, just by the way I carry myself. I take myself seriously, but you also know that I'm really normal. I'm just like you. I think that's what's going to come across the most in my music. As hardcore or tough as I may seem, I'm just your average girl at the end of the day. I love like everybody else loves. I have fun like everybody else likes to have fun.
I'm interested in what you said about country music. One of my favorite songs from Beyoncé's album is "Daddy Lessons"; I feel like country is having a mainstream moment. Is there something about country that you think the music industry needs right now? Absolutely. I think if I could put it in one word it would be "timeless." When a country record comes on the radio, I never say, "Man, I miss 90's country!" But think about how much people say that when they hear what's supposed to be an R&B record. Country doesn't have a time stamp on it.
What are you listening to right now besides Beyoncé? I listen to everything Kanye puts out because I'm a forever Kanye fan. Chance the Rapper also has an amazing project out right now. Earlier this year, I couldn't take Bryson Tiller out of my car. I'm a junkie for R&B, myself. Anything that's emo! The group The Internet also has some really good stuff out right now. And I really still love Jasmine Sullivan's last album. She had one of the most fantastic albums I've heard in a while.
What are your favorite things to do in Texas? I love crawfish. We call them "baby lobsters," but obviously they're not baby lobsters. It's crawfish season right now, so for the past few months on the weekends that's all that I do. I'm in cutoff denim, sitting outside, spraying a whole lot of OFF because the mosquitos are horrible, and I'm eating crawfish. That's my pastime. I don't really go out to the club because I'm always up with the chickens at 5:00 a.m. I have an unconventional lifestyle, in that sense.
Watch W's most popular videos here: