Inside a Lofty Manhattan Pied-à-Terre Where Opposites Attract
In Rodman Primack and Rudy Weissenberg's New York apartment, two chronic overachievers with very strong opinions on design manage to see eye to eye.
---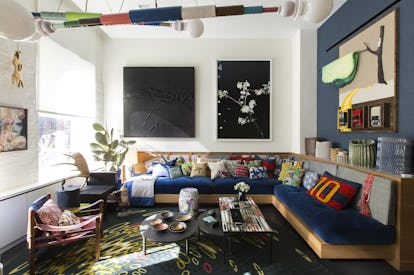 Photographs by Max Zambelli
When you first enter Rodman Primack and Rudy Weissenberg's Manhattan pied-à-terre, you're struck by two things: how much is crammed into it and how perfectly everything is orchestrated within the lofty 1,500-square-foot space. "It's not very minimalist, as you can see," Primack says. "We could put some stuff away, but Rudy and I like stuff too much."
And they do know their stuff. Primack, 41, is the chief creative officer of Design Miami, a designer of interiors and textiles, and an auction-house veteran. Weissenberg, 43, is a former commodities trader and television producer who is currently based in Guatemala, where he's involved in his family's business interests as well as real estate development and what he likes to describe as "cultural activation." Together, they have filled the apartment with an intriguing mix of work by a who's who of contemporary artists and designers.
In the entryway, one wall is adorned with a dozen plates by Konstantin Kakanias—a birthday gift from Primack to Weissenberg—illustrating scenes from their life, including a hike they went on with Weissenberg's mother, and portraits of friends like the jewelry designer Lisa Eisner ("one of our guiding lights," Primack says) and their "wonder dog," Theo. The painting by Assume Vivid Astro Focus that hangs in the kitchen was a gift from Weissenberg to Primack. Above the living room's L-shaped banquette (its deep cushions double as guest beds) are one of Tom Burr's plywood panels covered with a wool blanket and upholstery tacks; a Wolfgang Tillmans photograph of flowering branches; and Jack Early's Winter to Spring 1993, a multimedia work that depicts Yoko Ono as a tree, underscored by a row of vintage cassette recorders. An irregular-oval wooden dining table by the young designer Jonathan Muecke is surrounded by a mash-up of chairs—a classic bentwood from Thonet, remixes by Martino Gamper, an Eames chair in felted wool by Tanya Aguiñiga. A colorful ceramic piece by Milena Muzquiz (whose work Weissenberg has loved "since she was part of the performance duo Los Super Elegantes in the late 1990s") sits atop a tall wooden pedestal created by her partner, the artist Jorge Pardo. And a wall of wafer-thin steel shelves designed by Gabrielle Shelton is loaded with books, objects, family photos, and mementos. Nothing really goes together, and yet somehow it all works. As Primack notes, "Our tastes are really similar, although Rudy's might be more edgy/city and mine more rustic. The first thing I would buy is a Perriand chair, and his choice would be a Sottsass."
In contrast to the elegant jumble of the living room, the master bedroom and two bathrooms are exercises in the extreme application of a single pattern. Perry's Arrows, a Japanese-inspired fabric designed by Primack, is used for the bedroom walls, window shades, bed skirt, and headboard, which is embellished with embroidery by female artisans in Guatemala. (A second bedroom serves as an office for Primack, whose design business is called RP Miller.) The two bathrooms, meanwhile, are done up entirely (floors, walls, shelves, sinks, medicine cabinets) in Marmoreal, the British designer Max Lamb's striking, large-scale marble terrazzo.
Of course, being chronic overachievers, ­Primack and Weissenberg didn't simply move in and start decorating — they designed the space too. While Primack says he's usually the one who wants to tinker with things — they also own a house in Miami and have taken over a wing of Weissenberg's family home in Guatemala City — it was Weissenberg who insisted that they remodel before moving in last year. "Thank God it was a beautiful space," he says. "High ceilings are a great luxury for New York. But it was ugly. And if you don't redo it right away, you never do it." So they gutted the apartment, replaced the windows, removed '80s-looking touches (glass blocks, a curved wall), and added paneling made from a single chestnut tree, creating a sleek backdrop for the eclectic collections that draw an engaging double portrait of their owners.
A Manhattan Pied-à-Terre Where Opposites Attract
Rodman Primack and Rudy Weissenberg (from left), in their New York apartment.

Photographs by Max Zambelli
The living area is hung with works by (clockwise, from left) Jim Lambie, David Wiseman, Tom Burr, Wolfgang Tillmans, and Jack Early; the light fixture (foreground) is by Andy Coolquitt.

Photographs by Max Zambelli
A sitting area with a vintage chair, a stool by Kueng Caputo, and a light 
by Studio Wieki Somers.

Photographs by Max Zambelli
The bedroom is covered in Perry's Arrows, a fabric of Primack's design.

Photographs by Max Zambelli
The coffee table in the living area (Primack calls Weissenberg "the master table-scaper").

Photographs by Max Zambelli
The entryway, with a series of plates by Konstantin Kakanias.

Photographs by Max Zambelli
The apartment is filled with all manner of art and objects.

Photographs by Max Zambelli
The master bathroom is done up in Max Lamb's Marmoreal.

Photographs by Max Zambelli
The dining area has an assortment of chairs and elegant steel bookshelves.

Photographs by Max Zambelli
The two men — who met at a party in New York in 1997 and have been together ever since — grew up in different cultures but with strikingly similar influences. "I think I jumped out of the womb ready," says Primack, who was raised in Southern California and Sun Valley, Idaho. "My interests today are identical to what they were when I was 8." When he was in the fourth grade, he had a subscription to Architectural Digest, was obsessed with the decorator Mark Hampton, and was "probably the only subscriber to W in Idaho in the 1980s," he says. Starting at age 12, he had a slew of internships at galleries and foundations, as well as at the museum at Tufts University, where he majored in international relations and studied art history and fine arts. "I did three degrees' worth of work in four years." And though Primack is close to his mother (his parents divorced long ago), he credits his grandparents with nurturing his love of beauty. They lived in a Japanese-inspired house in Laguna Beach designed by Carl Maston, a noted California modernist, and Primack's grandmother, who favored Bill Blass, taught him to cook and set a dinner table, and showed him and his sister how to make jewelry, knit, and do needlepoint. "I still drive my grandmother's 1972 Mercedes convertible, which she gave me when I was 16," he says.
Weissenberg, no slouch as a budding aesthete either, bought his first piece of art at auction when he was 12 or 13; his sensibilities were shaped by the "outrageous taste" of his own grandmother, whose house was filled with furniture by Ludwig Mies van der Rohe and Eero Saarinen, and who wore Gianfranco Ferré. Only Primack's grandmother survives, but Primack notes that Weissenberg calls her his best friend, even if "she's constantly putting us in competition for favored-grandson" status. Their mothers, meanwhile, have become so close that Primack's now winters in Guatemala.
Today, the couple continue their peripatetic lifestyle, as Primack prepares for this year's Design Miami (he is working with the archive of the prolific artist and illustrator John Alcorn to create a new identity for the fair), and Weissenberg, who is developing a mixed-use real estate project in Guatemala City with the Mexican architect Tatiana Bilbao, has recently begun a program at Harvard Graduate School of Design. "I realized how important design is to me in the built environment, not just in the design of objects," Weissenberg says. "I want to continue doing what I'm doing, but with a few more theoretical chops." He's also the co-chair of the Latin American Circle for the Guggenheim Museum, which "focuses on expanding their holdings of contemporary and emerging Latin American art," and which, he adds, "ties to my spirit of cultural instigator and activator." It can't be easy juggling three homes, a relationship, and the demands of two successful careers, but Weissenberg seems unfazed by it all. "I see us like two wide-eyed kids on a constant quest to see, experience, learn, and pursue interests, some lifelong, some new," he says. "Our interests, personal life, and work are all intertwined."