Inside Agern, the New Restaurant By a Noma Alum Inside Grand Central Station
The spirit of Nordic cuisine is alive and well in the new restaurant by Claus Meyer.
---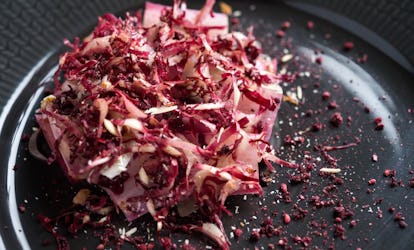 Say Noma and the crowds and critics will come. Danish restaurateur Claus Meyer isn't just an alumnus of the famous Copenhagen kitchen led by chef Rene Redzepi, he is one of the founders of Noma and the Nordic food movement that has caused a global shift in the gastronomy scene altogether. Thus, when he opened his new restaurant, Agern, in New York this spring, it piqued the food world's interest immediately and the buzz has been continuing to grow ever since.
Agern (the Danish word for acorn) is tucked away in Grand Central, a transporting oasis inside its frenetic, bustling surroundings. Meyer applied much of his signature Scandinavian touches here, from the modern Scandi design of the 110-seat space to the food, which emphasizes foraging, smoking and curing, and seasonally-driven, local products from the New York state area. (They are even leading foraging tours this fall.)
That's in keeping with the Nordic cuisine philosophy of chef Gunnar Gislason, formerly of Dill restaurant in Iceland, and his chef de cuisine Joseph Yardley. For dinner, there's the Field and Forest menu ($140), which is a seven course journey through vegetarian delights like potatoes with plums; purslane and black garlic; buckwheat with red currants and fig leaf sherbet; and salt and ash baked beetroot with caraway seeds and huckleberries (now a signature dish). The Land and Sea menu ($165) includes some of the star vegetarian dishes and fish dishes like red snapper, leek, celery, and romaine, and pork neck with bean salad, pea shoots, and sol. You can also order a la carte. (N.B.: Food and drink pricing includes service. Tips are declined.)
Meyer, who opened a coffee roaster in Brooklyn this past year, doesn't take the coffee service lightly here. You'll find espresso and pour-overs brewed over a digital scale (which is done tableside, no less). In terms of adult libations, there's a funky mix of hard ciders, sparklers (including trendy pet-nats), and mead, which has having quite a moment right now. All of them, in keeping with Meyer's commitment to buying locally, are U.S. grown.
Since Meyer not only helped found Noma, but also the entire Nordic food movement, Agern naturally draws a big crowd of foodies who are fans of his previous projects. Plus, given then it's in Grand Central, the restaurant also attracts midtown business men and women in suits having lunch meetings and smattering of tourists, too.
And, at this point, reservations are miraculously still easy to get. You can book directly on the website or via OpenTable.
The Basics Agern at Grand Central Terminal, 89 East 42nd Street, New York, NY, 10017. (646) 568-4018. Hours: Lunch (Monday to Friday, 11:30 to 2:30 p.m.); Dinner (Monday to Saturday, 5:30 to 10:00 p.m., Sunday 5:30 to 9 p.m.).
Watch W's most popular videos here: