Inside 'Authority Figure,' an Epic Performance Tackling Police Violence at the Knockdown Center
If you didn't make it to Queens this weekend, step through the all-immersive performance via Instagram.
---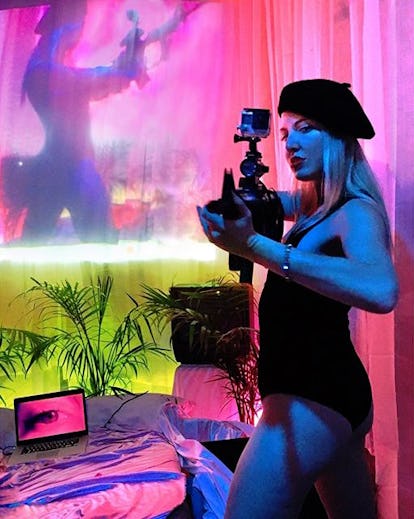 "Would you like some pills?" a woman in a white turtleneck serenely asked visitors to the Knockdown Center in Queens this past Friday, as she offered up a selection of red-and-yellow (and allegedly empty) capsules. The 50,000-square foot space had been transformed for the weekend into an all-immersive and interactive dance performance called "Authority Figure," a meditation on obedience organized by New York artists Monica Mirabile and Sarah Kinlaw, who enlisted over 150 performers. Soundtracks by the likes of Dev Hynes, Caroline Polachek, and Dan Deacon; and choreography by Instagram stars like India Salvor Menuez and Alexandra Marzella made up around a dozen performances, which were named after certain ticket buyers' IP addresses.
If that sounds a bit personal, the audience knew what it was in for from the start: buying tickets required taking a literal test of endurance, with questions in the form of scenarios like: "You see a police officer violently arresting someone, what do you do?"
The purpose of the test was to determine the appropriate time for each visitor to arrive at and leave the lobby to see the rest of the space, which was hidden behind curtains. Once inside, a row of dancers awaited, eerily still, for each new group, selecting a visitor and performing for them until the spotlight switched over to [a schoolgirl](<blockquote%20class="instagram-media" data-instgrm-version="7″ style=" background:#FFF; border:0; border-radius:3px; box-shadow:0 0 1px 0 rgba(0,0,0,0.5),0 1px 10px 0 rgba(0,0,0,0.15); margin: 1px; max-width:658px; padding:0; width:99.375%; width:-webkit-calc(100% – 2px); width:calc(100% – 2px);">
A photo posted by (@tjtarajo) on May 20, 2016 at 5:55am PDT
), who sat frantically at work before wrestling her apparently pregnant school teacher.
The guides then took visitors' hands and led them to the next room, where performers in an installation by Ilana Savdie pulled up their dresses while dancing against empty store racks to a soundtrack by Hot Sugar – until they started being thrown to the ground in a mock police raid, which visitors were encouraged to witness with their phone flashlights. (At the end of the night, one dancer showed off a frayed hole on the back of her skirt, noting with a laugh that she'd been dragged across the concrete floor 14 times in the last few hours.)
At the center of the next space stood a Christ-like figure, who sang gospel with a group while a woman who still managed to look ethereal in an American flag t-shirt played the harp. Overhead, another woman hung like a rag doll, swinging in a harness over both visitors and a sea of prone bodies on the floor. They soon awoke to answer marching orders and scream for visitors to get out.
Outside, the performance artist Signe Pierce grabbed a few lucky individuals to enter her shed, where she took their pictures with a camera that happened to be fixed to the end of a gun.
In the next room, filled with fog and purple lighting, a chainlink fence separated a surveillance team from the two performances they were videotaping: a team of alternately twirling and crawling dancers, and a group that wore black gloves on their right hands, which they pointed like guns as they chanted about power structures in front of a dozen-plus exit doors.
Next up was a much-needed "bathroom break": a foggy, perfumed spa-like space designed by Menuez, where performers wrapped in silky pink robes groomed themselves next to inventive food sculptures. And in fact, toilets actually were available, though a pair of women sharing both gossip and an e-cig made sure they were first in line, while a hand reached out from the ground of another space to untie visitors' shoes as they waited.
Out back, Alexandra Marzella led the way to a brick ruin, throwing her waist-length hair back to scale the walls and toss pills down to a pack of dancers swathed in cult-like garbs below, who ran back and forth before collapsing on the gravel in a heap below the stars.
The night came to an end at different points for the various groups. Those with higher stamina were treated to a gratingly loud workout scenario, while the rest waited around at a makeshift bar. It all came together, though, for the night's final performance, bathed in light along with the 100-plus performers in the main space for a calming soundtrack by Dev Hynes. It was a cleansing moment: For once, no one was screaming at the audience to get out; left to their own free will, many of the visitors even stuck around, mingling with their former authority figures at the bar.