Inside Björk's All-Immersive VR Exhibit, "Björk Digital"
At Somerset House in London, the Icelandic outlier is using VR headsets to take you inside her head.
---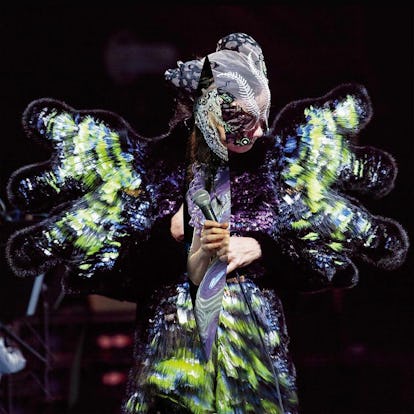 Courtesy of @bjork
What is it like to be inside Björk's mind? Putting on a VR headset that shows everything from her ethereal performances to an inside view of her throat might be the closest you'll ever get to knowing. At the Somerset House in London through October 23, "Björk Digital" kicked off this week with a press conference attended by Björk herself — albeit as a distorted avatar over livestream from Iceland, which then proceeded to do a Q&A with the museum's director. "VR is helping making a new stage free of politics where sound and vision is swirling free in 360 fully liberated," she said later on Instagram. And her 2015 album, "Vulnicura," was the perfect fit: a deep dive into the month-by-month aftermath of the breakdown of her marriage from the artist Matthew Barney, it is just as, if not more, dramatic and personal as the camera scaling the insides of her mouth. While the headsets are where the real action's at, visitors are still managing to post video from the exhibit. Get a look inside via Instagram, here. Don't forget to press play.
Watch W's most popular videos here: