Inside Society Café, the New Greenwich Village Eatery You Need To Try This Winter
Located in the Walker Hotel, the chic farm-to-table restaurant is the newest addition to New York's downtown dining scene.
---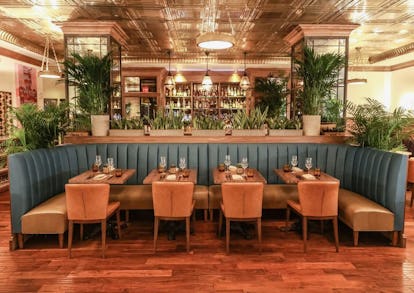 In 2008, only a few years out of college, budding restauranteur Matt Levine opened up The Eldridge on New York's Lower East Side, a hip watering hole that became a go-to spot for artists and club-goers. Three years later Levine opened his first restaurant, Sons of Essex, before turning his attention to organic, locally-sourced produce which took the form of cult eatery Chalk Point Kitchen in 2014. This month, he's opened his second eco-friendly spot, Society Café (named after Greenwich Village's first jazz café), a subterranean eatery housed in the lower level of the newly opened Walker Hotel Greenwich Village.
For his newest farm-to-table restaurant, Levine committed to using organic produce, and found in chef Christopher Zabita (a Bar Boulud and Marc Forgione alum) a zest for the task. "His Tri-State sourcing was a perfect match to our ethos of supporting farmers and markets," said Levine, 34, of his rather literal grassroots approach to hospitality. Out of the 16 mouth-watering dishes on rotation, Levine favors the charred radicchio salad with castelfranco, radishes, mandarin and sunflower seeds, while Zabita opts for the squid ink cavatelli with homemade chorizo and lemon. For an aperativo, Zabata's drink of choice is The Downtown, a concoction of herradura reposado, apple cider and cucumber shrub, with homemade habanero tincture.
Design-wise, Levine modeled the seating after Craig's of Hollywood. "Comfortable, large banquettes that create an intimate enclosed dining experience," he said of the teal booths that line the perimeter of the gold ceilinged, plant-filled space. Abstract artwork by local New York artists hang from the walls, set to a backdrop of music which includes hits by David Bowie, Jimi Hendrix and Prince.
Despite its potential for a wide appeal, Levine's goal is to build a local following first.
"On those snowy Mondays, rainy Tuesdays and heat-wave Wednesdays, it's your local residents and neighborhood that are most loyal and supportive," he said. "And with an ever changing menu we can always surprise our loyal guests."
Calling Card The grand cast-iron door between Fifth and Sixth Avenues.
Tribes Expect to hear an array of accents from international hotel guests, and a lot of West Villagers.
Music A heavy rotation of David Bowie, Jimi Hendrix and Prince.
The Menu Appetizers begin at $16, and mains at $27. Start with the burrata and follow with the matsutake dashi as your main; it takes chef Zabata a full day to perfect it. Cocktails start at $14, wine at $12.
The Basics Walker Hotel Greenwich Village, 52 W 13th St, New York, NY 10011
For Ellie Bamber, Bedtime Snacks Are an Important Part of Any Nightly Beauty Routine