Inside Taryn Simon's Epic Exploration of Grief
For her ambitious undertaking, the artist is occupying the Park Avenue Armory with mourning.
---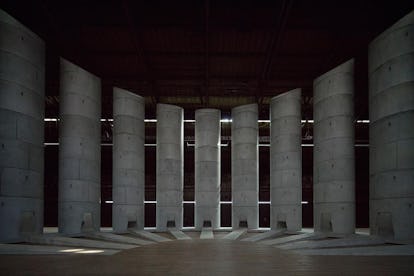 Usually, at this time of year, the Park Avenue Armory hosts the colorful procession of peacocks and six-inch platforms that make up Marc Jacobs's spring fashion shows. But this season, the venue wasn't exactly available for Fashion Week: From this past Wednesday until September 25, the artist Taryn Simon has filled it with a series of towering sculptures that act as inverted wells — along with over 30 professional mourners who gather to sing their dirges each night at sundown. Daytime visitors to "An Occupation of Loss" are free to express their own lamentations in the towers, which are cast in concrete with help of the architecture firm OMA. Or just listen carefully: The hum echoing quietly through the cavernous space is actually a recording of the professionals, broadcast by a drone overhead.
It's the latest ambitious project from Simon, whose past undertakings include chronicling over 1,000 objects confiscated at JFK Airport and exhibiting 900-plus portraits taken all over the world in a single show at the Tate Modern. This exploration of grief is somewhat private: The performances take place for groups of 30 at a time, and photos and videos are strictly forbidden inside the towers. The exteriors, on the other hand, are Instagram-worthy. Take a look, here.