Inside the 25th Annual Take Home a Nude Bash with Brooke Shields and Jane Holzer
At the New York Academy of the Arts's annual auction-turned-party, a Warhol muse was honored, an actress shopped with purpose, and a slew of varied New Yorkers from Naomi Watts to Francisco Costa to even Bobby Flay mingled among the fleshy art works.
---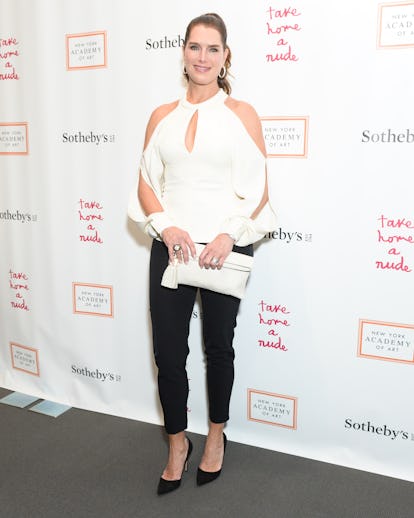 Joe Schildhorn / BFA
"Please don't hold back, please don't be polite," Brooke Shields implored the crowd gathered at Sotheby's on the Upper East Side on Monday night for the 25th edition of the New York Academy of Art's annual Take Home a Nude auction and celebration, this year honoring Academy cofounder Andy Warhol's former muse, Jane Holzer.
Shields, both a curator and board member of the Academy, certainly seemed to be taking her own advice. "Can we talk over here, closer to this painting?" she said, pulling me over to a large canvas depicting Nefertiti that bidding was soon to start for. It was clearly a work she'd set her sights on, and hardly the only one: "I started bidding online [last week] because I wanted to get it going," she said enthusiastically. Even still, she wasn't up to her usual standards this year, the fifth in a row she's attended: "I was a little disjointed and I didn't do as well as I normally do," she lamented.
Competition, then, was definitely in order: Along with Holzer, Glenn O'Brien, Naomi Watts, Francisco Costa, Cynthia Rowley, Anja Rubik, and Brandon Maxwell, Shields was up against hundreds of other art-world and fashion figures in taking home the artworks most worth ogling by artists like Marina Abramovic, Nicole Eisenman, Patrick Demarchelier, Joseph Kosuth, and Nan Goldin — all of which were going fast.
"The first time somebody comes to this event, they usually come at a normal social time, and then they're angry because so much of the good stuff is gone," said the Academy's president, David Kratz. And while seasoned pros like Shields and the artist Will Cotton know to arrive early, this year Kratz benevolently shifted the closing of each of the three galleries to a bit later in the evening "to give the latecomers more of a chance," he said. (For the first time this year, the event raised over a million dollars.)
Inside the 25th Annual Take Home a Nude Auction
The scene at the New York Academy of the Arts' annual Take Home a Nude Auction and Party at Sotheby's.

Kelly Taub/BFA.com
Naomi Watts at the New York Academy of the Arts' annual Take Home a Nude Auction and Party at Sotheby's in a dress by Vilshenko.

Joe Schildhorn/BFA.com
Bob Colacello and Jane Holzer at the New York Academy of the Arts' annual Take Home a Nude Auction and Party at Sotheby's.

Joe Schildhorn/BFA.com
Guests at the New York Academy of the Arts' annual Take Home a Nude Auction and Party at Sotheby's.

Joe Schildhorn /BFAnyc.com
Francisco Costa and Stefano Tonchi at the New York Academy of the Arts' annual Take Home a Nude Auction and Party at Sotheby's.

Joe Schildhorn /BFAnyc.com
Brooke Shields and Bobby Flay at the New York Academy of the Arts' annual Take Home a Nude Auction and Party at Sotheby's.

Joe Schildhorn /BFAnyc.com
Anja Rubik at the New York Academy of the Arts' annual Take Home a Nude Auction and Party at Sotheby's.

Kelly Taub/BFA.com
Brandon Maxwell at the New York Academy of the Arts' annual Take Home a Nude Auction and Party at Sotheby's.

Joe Schildhorn/BFA.com
Zoya and Damian Loeb at the New York Academy of the Arts' annual Take Home a Nude Auction and Party at Sotheby's.

Joe Schildhorn /BFAnyc.com
Ebon Moss-Bachrach and Yelena Yemchuk at the New York Academy of the Arts' annual Take Home a Nude Auction and Party at Sotheby's.

Joe Schildhorn/BFA.com
Cynthia Rowley, Will Cotton, and Eileen Guggenheim at the New York Academy of the Arts' annual Take Home a Nude Auction and Party at Sotheby's.

Joe Schildhorn/BFA.com
Among the first-timers was celebrity chef Bobby Flay, who'd wandered in late looking to add to his burgeoning collection, which he'd started in that very same location at a Sotheby's auction just last year. "This is such a new world to me," Flay said, looking around and admitting that his new scene was definitely great for people-watching. "I mean, it's intimidating of course, if you don't know anything — and I don't know anything — but about a year ago I started paying attention, and it's been really fun to discover," he said. (He has a passion, it turns out, for contemporary and abstract art — he had just bid on a canvas called "TriBeCa" to match his new neighborhood.)
But even some of the event regulars made their forays later into the evening, too: Holzer could barely make it past the bar at the entrance because she was so held up with congratulations, an honor she described simply as "nuts." She's been coming to the event longer than she can remember, and got an even further throwback to the Warhol days later in the evening when former Interview editor Bob Colacello staged an impromptu interview with Holzer in the spirit of the magazine during dinner, after guests had finished up sipping tequila drinks appropriately called "The Nudie."
But you needn't have spent decades in the art world like Holzer to get comfortable, as Flay was learning. "Art is almost like the wine business," he reflected. "You don't have to spend a gazillion dollars to drink a good bottle of wine — you just have to seek out the things you like."