Inside Flora, a New Museum Restaurant for the Black Tie Set at the Met Breuer
Riding the wave of New York's new museum hot spots, here comes Flora, the latest from Estela's Ignacio Mattos and Thomas Carter.
---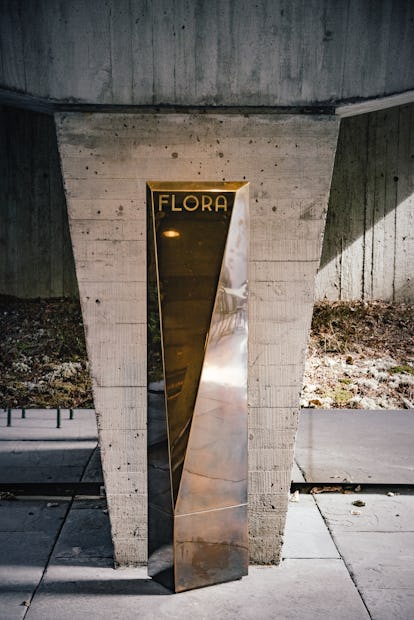 Pablo Enriquez. Produced by Biel Parklee.
On a golden fall morning in New York, just a few days before opening their latest endeavor Flora Bar and Coffee in the basement of The Met Breuer museum on the Upper East Side, business partners Thomas Carter and Ignacio Mattos are standing in front of a Mountain White Danby marble bar in the café area still debating lighting.
"We're going to be adding light fixtures inspired by some Marcel Breuer designs. They are going to go over the bar [in the dining room]," says Mattos, referencing the architect behind the Brutalist building in which they find themselves.
"It should be over this bar, too, right? Like one over this bar would be amazing?" asks Carter.
"We could do two here," says Mattos.
"[Breuer] did a shoe store in the 30's — it had beautiful lights," explains Carter, pulling out his iPhone to show me a photo.
This is how the dynamic duo behind the ravenously successful restaurants Estela and Café Altro Paradiso operate. They complete each others' sentences. They are obsessed with minute details — at one point Mattos interrupts his own train of thought to question the placement of a "washed hand" sign before continuing. And they toe the delicate line between an unflinching, individualistic vision and a sense of responsibility to their clientele and the parameters of the stark, circa-1966 building in which their latest project resides. At Estela, Mattos, the chef, and Carter, the restaurateur, shook up the downtown dining scene with a sparse, succinct menu served in a casual, tightly-packed room. Their second spot, Café Altro Paradiso, which opened eight months ago, added a dash more formality and plenty more square footage.
Flora Bar and Coffee, which opens this week, is arguably their most ambitious project to date given its hallowed location and uptown environs.
"[It] was like on steroids," says Carter of the names involved, like the big-wig architectural firm Beyer Blinder Belle, who worked with them on the space.
The Coffee — a coffee shop, essentially — will be open during museum hours, while the Bar — the main restaurant — will serve dinner until 11 or 11:30pm most nights (eventually expanding to lunch). And in a first for a restaurant in this spot, it will have its own dedicated entrance, so it is accessible even when the museum is closed.
"That was one of our stipulations. We have a certain style and I think as long as we stay — I hate to use a marketing term — on brand, I feel we do best in those constraints. Because essentially what we do is neighborhood places," says Carter. He adds, semi-seriously, "We have a good contract."
"Oh believe me, it took two years to finalize it. We finished it right before we open," says Mattos.
"Our lawyer is like a doting grandmother," says Carter.
Fortunately — or prophetically, depending on your sense of fate — Carter and Mattos have a vision that aligns perfectly with the severe Breuer space, the starting point for their creative meandering. Its robust, unyielding lines meshed well with the same materials — walnut wood, iron, glass, steel, bronze and marble — the duo used for the décor of Estela. And so in addition to the Mountain White Danby marble bars and tabletops, there are custom stools designed by Steven Bukowski and a marble host stand, wine station and custom Flora obelisk by David Sullivan. The Bar features neo-utility style chairs and weekly arrangements by the florist Mindy Cardozo. Even the name was born of the space, though in a more oblique way.
"The space has this very intense presence. And we wanted to have a name that was embracing, that felt right and looked good," says Mattos.
"Names are hard. I still like Tetra," says Carter.
"It sounds like a video game."
"Flora, it kind of softens it up. It's more affable," agrees Carter.
The raison d'etre of Flora Coffee and Bar was more direct. "Iganico and I both love galleries and museums. My mother used to always pull me out of school and we'd go to the Arts Institute of Chicago and have lunch there," recalls Carter. "When you're a kid, you don't realize how bad the food is. But there's been this new spirit of really good food in museums… I think your connection is to be able to offer great food in these environments where it's… "
"… not the case," says Mattos. "[Met Museum director] Tom Campbell has been very supportive on that aspect, of making a statement that they want to have good food at the museum, which they were lacking in the main building," says Mattos.
"Cellophane sandwiches," says Carter with a slight shudder.
"Those are sad, no?" says Mattos.
There's nothing sad about what Mattos is cooking up at Flora. The Coffee will serve light fare like sandwiches and salads, house-baked goods (cakes, gluten-free cookies, savory Spanish-style pies) and coconut yogurt with raw granola. The coffee is courtesy of the Brooklyn-based company Parlor; and at night, the Coffee will transform into a waiting area for the main restaurant (a bar menu is a possible forthcoming addition).
"It's definitely very different," admits Mattos of tackling such a casual culinary style. "But who doesn't love a good coffee shop?"
For the Bar, Mattos chose to have a "heavy footprint of seafood." The seasonal, ever-changing menu is divided into three sections that don't necessarily delineate appetizers and mains, so people can choose between sharing and ordering individually. There is a raw seafood bar, a selection of oysters, lots of vegetables and some meats, all with a Spanish and Japanese influence. Think a lobster crudo with shiso, or a tuna tartare with flax seeds and flowered oils.
"We're trying not to interfere with the product. It doesn't matter how it looks; it's how it eats and how it tastes," says Mattos. "It will be bold and clean as it can be, and unassuming. It's not about fireworks, firecrackers and glitter. It's just bare bones."
"Well, maybe glitter," says Carter.
"Maybe a little," says Mattos. "But one thing with glitter is you're going to have to live with the glitter."
"It's going to be around for months."
Mattos and Carter's hope is that Flora will become a place where everyone from black-tie clad opera-goers to casually attired walk-ins will feel at home — and look it.
"I think everybody will look great in here no matter what you're wearing," says Carter. "That was the biggest challenge coming to this space: it has to feel like a restaurant. It is a museum, but it's also a restaurant. You want to feel a certain way when you walk into a restaurant."
Of course, there will be the inevitable comparisons to Estela and Café Altro Paradiso.
"Altro, when we opened it, it's only eight months old, everybody compares it to something else," laments Carter.
"Everybody compares it to a grown-up and it's a baby," says Mattos.
"It's like, 'How come they're not solving this equation? It's a child, what's wrong with this child?' I think sometimes we forget that even though we're in such a fast-paced environment, this is something that's analog," says Carter. "It's a living, breathing thing and it takes a second. I don't know anything new that starts off in this realm and you're like, 'Wow.' With wine, you open a bottle and people are like, 'Oh it needs to breathe.' Of course it needs to breathe! It needs to open. Everything needs to open."
Inside Flora Bar and Coffee
Flora Bar @ The Met Breuer

Photo by Pablo Enriquez. Produced by Biel Parklee.
Flora Bar @ The Met Breuer

Photo by Pablo Enriquez. Produced by Biel Parklee.
Flora Bar @ The Met Breuer

Pablo Enriquez 2016
Flora Bar @ The Met Breuer

Photo by Pablo Enriquez. Produced by Biel Parklee.
Flora Bar @ The Met Breuer

Pablo Enriquez 2016
Flora Bar @ The Met Breuer

Photo by Pablo Enriquez. Produced by Biel Parklee.
Flora Bar @ The Met Breuer

Photo by Pablo Enriquez. Produced by Biel Parklee.
Flora Bar @ The Met Breuer

Photo by Pablo Enriquez. Produced by Biel Parklee.
Flora Bar @ The Met Breuer

Photo by Pablo Enriquez. Produced by Biel Parklee.
Flora Bar @ The Met Breuer

Photo by Pablo Enriquez. Produced by Biel Parklee.
Flora Bar @ The Met Breuer

Photo by Pablo Enriquez. Produced by Biel Parklee.
Flora Bar @ The Met Breuer

Pablo Enriquez 2016
Flora Bar @ The Met Breuer

Pablo Enriquez 2016
Flora Bar @ The Met Breuer

Pablo Enriquez 2016
Flora Bar @ The Met Breuer

Pablo Enriquez 2016
Flora Bar @ The Met Breuer

Pablo Enriquez 2016
Flora Bar @ The Met Breuer

Pablo Enriquez 2016
Flora Bar @ The Met Breuer

Pablo Enriquez 2016
Flora Bar @ The Met Breuer

Pablo Enriquez 2016
Flora Bar @ The Met Breuer

Pablo Enriquez 2016
Flora Bar @ The Met Breuer

Pablo Enriquez 2016
Flora Bar @ The Met Breuer

Pablo Enriquez 2016
Meet India Makailah Graham, the Winner of the Wmag Model Search