Inside the First Party of Golden Globes Weekend
It all began at the Chateau Marmont with Cate Blanchett and Quentin Tarantino.
---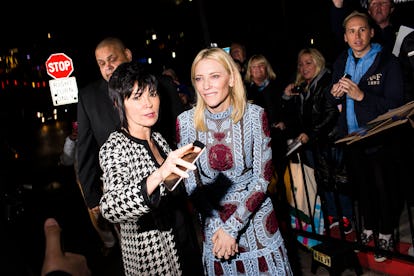 "It's all a——s and elbows right now," Quentin Tarantino said as he squeezed his way through the packed suite inside W Magazine's annual pre-Golden Globes party on Thursday night at Chateau Marmont.
And the party had only just begun. Tarantino, up for a Globe for his screenplay for The Hateful Eight, usually commands a room with his outsize personality, but he had stiff competition here. All eyes were on Cate Blanchett, a favorite this awards season for her performance in Carol, who stood out more than usual in an eye-catching number by Erdem.
Blanchett's likeness – and the faces of Rooney Mara, Brie Larson, Saoirse Ronan and Alicia Vikander – was plastered all over the room on portraits shot by Peter Lindbergh for the "Best Performances" issue.
It Follows actress Maika Monroe, who walked into the party with actor Taylor Lautner, was also shot for the issue. "It's all pretty nuts," she said. "It was a dream come true working with Peter. He's one of my favorites, so it was a really special experience for me, something I won't ever forget."
"When you're relaxed, everyone's relaxed," the legendary photographer said of the shoot. "I love them all, I have to say. There's not one I didn't like. Oh, one second…"
Lindbergh had just caught sight of Tangerine star and transgender actress Mya Taylor and went over to chat. The indie, it turns out, is the only movie he's seen this year.
"I'm going to see more when I have the time. I take the red-eye to Dubai tonight, so Sunday, I'll be in the desert in the middle of nowhere," he said. "But I'll see it the next day, when I'm back in Paris." Of course you will, Peter.
He became reflective about the experience of going to the movies.
"You know, when I watch, sometimes I have a little tear running down, because it's touching and you know how hard it is to get there at the Globes? Then your son says, 'Pops, what are you doing? Are you kidding me? Why are you crying?' And you say, 'Oh no, it's just something in my eye,'" he said, and returned to his air-kissing duties.
Before the Golden Globes, a Party at Chateau Marmont
Kate Mulleavy and Kirsten Dunst.
Brie Larson and Kristen Wiig.
Hylda Queally and Cate Blanchett.
Cara Santana and Jesse Metcalfe.