Is the Instagram Influencer Apocalypse Upon Us?
Instagram is slowly unveiling major changes to the platform.
---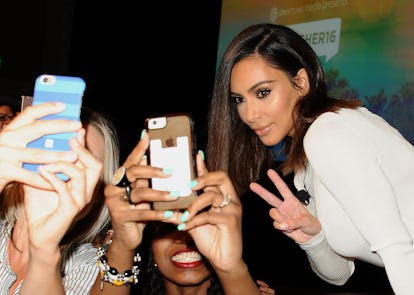 Jason LaVeris/FilmMagic
Back in April, the Instagram team made an ominous announcement: they were working on a test that removed like counts to create "a less pressurized environment" on the social network. Users wouldn't be able to immediately see how many likes another user's post received, though they'd still be able to see who liked their own posts. The company wanted to move away from what they appropriately call "vanity metrics." Instagram head Adam Mosseri said he wanted it all to feel "less like a competition."
The test initially launched in Canada in May, and as Instagram, a subsidy of Facebook, told the BBC, it's since expanded to Australia, New Zealand, Ireland, Italy, Japan and Brazil. "We hope this test will remove the pressure of how many likes a post will receive, so you can focus on sharing the things you love," Mia Garlick, Facebook Australia and New Zealand director of policy, said in a statement.
Instagram influencers in the tested markets are panicking. Melbourne-based influencer Mikaela Testa went viral for posting a video rant on Facebook about the new format. "Regardless of what you may think, Instagram is a REAL job and those in the industry have worked hard to get where they're at," she said. "It's people that aren't even in the industry that think it's a f–ing joke. It's not, it's real damage out here. I've put my blood, sweat and tears into this for it to be ripped away, it's not just me suffering too, it's every brand and business I know."
An unnamed influencer called into a live Australian radio show to complain about the policy, saying that she "used to work [on Instagram] six hours a day, but now I'm working eight hours a day because the Likes are going down!"
Traditionally, influencers have often made money and garnered deals based on engagement, a metric that takes likes heavily into account. An account with high follower count and little engagement could be less valuable than an account with a lower follower count and high levels of engagement. And so the influencers are scared that the lack of visibility on likes could have major effects on their income. But Instagram says that the test would not affect measurement tools for businesses, and likes, like followers, are easily replicated anyway by bots, making engagement rates increasingly less important.
Instagram may claim that this change is an attempt at making the app "healthier," but there are different strategies at play here. In June, they announced a change allowing advertisers to promote posts from influencers. In a report on the Instagram changes from CNBC, Bob Gilbreath, the general manager of influencer and social media marketing firm Ahalogy, said that the new move gives Instagram a bigger wedge of the money spent on influencer marketing. "If people go more to this paid model, that's making it so Instagram gets a bigger [portion] of the money," he said.
Hiding likes (you can still see the like number after clicking through, just not immediately upon viewing a post) is also part of a strategy for directing Facebook and Instagram users towards posting on Stories as opposed to the regular feed. "The goal of Facebook and Instagram is to push users to Stories, since they believe the future is in short form videos, not static images or [the] News Feed," Quynh Mai, founder and CEO at digital agency Moving Image & Content, told CNBC. "Because of this, they're focusing on strategies to increase consumer consumption rate of video, get more creators making videos, and increase ROI of advertisers leveraging video."
Another effect of hidden likes could be that we all feel emboldened to post much more. Oliver Yonchev, U.S. managing director at social media company The Social Chain, told CNBC that "One of the number one reasons why users don't post more now is because every single time you post you're being heavily judged by this 'like' metric on the quality of your post. If that's removed, then a lot of people won't feel that pressure, and they'll post more, and that's good for the platform; that could probably lead to more time spent on the platform which means more ads served to the community."
Relatable content. Which apparently we'll all be posting a lot more of.