Instagram is About to Make Shopping a Whole Lot Easier
Instagram isn't turning itself into an e-commerce destination, but it is making finding where to buy products you see in your feed easier.
---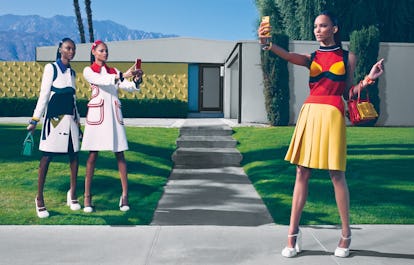 Photography by Emma Summerton, Styled by Giovanna Battaglia
It's easy to find style inspiration on Instagram. It can be much harder to actually find where to buy the products you covet through the app. Let's say you spot a flirty green sundress on your favorite social media star. Then, after an hour or so of furious Googling you think you've found something sort of similar only to have a package arrive at your door three weeks later from China that contains what turns out to be some awkwardly screen-printed oversized t-shirt with cheap ribbon sewn on that almost, kind of, sort of looks like that sundress if you squint your eyes after three shots of tequila.
It's a problem, but Instagram is finally getting around to trying to fix it by giving into its destiny as a potential major player in e-commerce.
The Facebook-owned app has announced it's experimenting with new tools that will make actually finding items you spot in your feed much easier. They're adding product tags in their biggest product implementation since they introduced "stories" earlier this year.
The new feature will sort of resemble the app's current people-tagging system. You'll be able to click a button that will enable you to see tagged products. Companies can tag up to five products in an image, and if you click on one it will lead you to a page with more information about the product and a link to an outside URL where you can actually buy it. Yes, the phrase "link in bio" is about to become slightly less ubiquitous on the app.
Here's how the feature will look in action:
Of course, there are some caveats. The beta-test includes just 20 brands and e-commerce sites – Kate Spade, Michael Kors, Warby Parker and J.Crew among them – which means that the app will not become some sort of wild, wild west of e-commerce. Unknown brands or unproven Instagram boutiques, for example, won't be able to use it, nor will heavily-followed influencers be able to include links to products at the behest of their advertisers. At least at the moment.
Interestingly, the update stops just short of allowing people to buy things directly through the app. Instagram also won't take a cut of the purchase. Instead, they'll monetize the new features by charging brands to get their tagged posts in front of users who don't follow them but may still be interested.
Instagram says that the implementation does reflect the current place it already plays in the shopping experience and that users usually don't immediately buy something just because they see it on Instagram anyway.
"Knowing that Instagrammers are open to discovery on the platform, and that people take time to better understand the products they're interested in, this test gives our community valuable steps along their shopping journey before they make a purchase," read a release.
Instagram says it will continue to tweak the feature, and hopes to add elements like the ability to save product tags to view later.
This is not the only development to surface this week that will make hunting down goods to buy online easier. Over in Korea, researchers say they've developed a new search algorithm that will allow you to upload a picture of a particular object you're obsessed with and churn out results linking to places where you can buy either the exact item or things similar to it. That tech will debut in South Korea later this year, and if successful it will surely find its way to America in some form. Until then though you'll have to settle for the new Instagram product tags.
Watch W's most popular videos below: