Instagram Stars' Favorite Sunglasses Now For Sale Exclusively on Instagram, Natch
Illesteva, the buzzy sunglasses brand beloved by Kendall Jenner and Gigi Hadid, will sell exclusive styles on their Instagram account every week.
---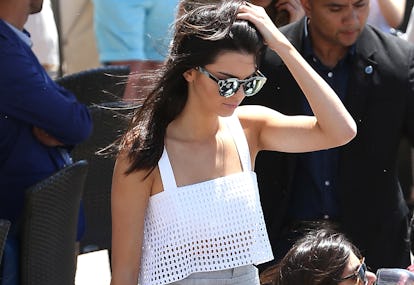 GC Images,
Sure, fashion has an obsession with what's in and what's out, but the ultimate "out" right now seems to be any lingering traditional models of how to present and sell clothing to consumers. What's "in" is definitely shaking things up. Burberry is leading the revolution with it's first "see now, buy now" collection coming next month, but others are following suit. Designer Tamara Mellon is set to stage a comeback by forgoing notions of collections and seasons, and just offering up styles directly to shoppers as soon as they're created. Other brands are wholeheartedly embracing the "direct to consumer" route as well.
So, it's no surprise that Illesteva's business department is as on trend as their sunglasses.
The seven-year-old sunglasses brand is already a go to for superstars stars like Gigi Hadid, Beyoncé, Gwen Stefani and most known Kardashians. Thanks to the celebrity shine, they've racked up 262,000 Gram followers of their own. Now, they're leveraging their Instagram account as a way to sell exclusive styles directly to their followers.
Every Wednesday at 11:30 a.m. the brand will debut a new style that will be exclusively promoted through Instagram. W has an exclusive early look at the first style that will debut later today.
The model features the band's Leonard II frame in the retired "frost" colorway paired with a brand new purple gradient lens; they cost $290.
"We introduced the Leonard II Frost 2 years ago and have since received requests through all channels to bring back the color way," said Daniel Silberman, brand president . "We wanted to do an Instagram exclusive series because it was one of the earliest ways we were able to connect and communicate with our followers."
Selling directly on Instagram is a time-honored tradition among independent designers and vintage sellers, but few established fashion brands have experimented with using the platform to actual sell directly to costumers.