Istancool
Istanbul'74, a three-day event, brought together bold names in fashion, art, film, and music.
---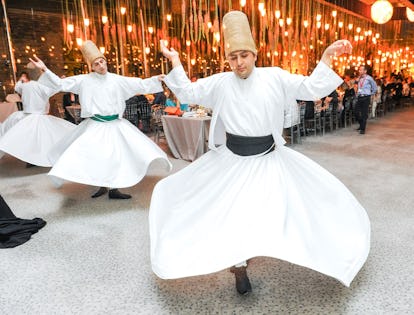 While many of the tourist destinations in Istanbul, Turkey, are known around the world, until recently the city's contemporary art and culture scene was relatively below the global radar. Turkish Creative Director Demet Müftüoglu Eseli and her husband, Alphan Eseli, set out to change that with the annual Istanbul International Arts & Culture Festival (which is locally referred to as Istancool, for good reason, and officially abbreviated as IST. Festival). Since 2009, the festival has brought names like architect Zaha Hadid, actress Kirsten Dunst, writer Gore Vidal, artist Dan Colen, and photographer Mario Sorrenti to the Turkish city.
Fast forward to 2013, and the Eselis made the last-minute decision to cancel IST. Festival in solidarity with the Gezi Park protestors, thousands of whom were injured during a sit-in. "We really value the voice of the young generation, so we weren't thinking of ourselves," says Müftüoglu Eseli. Happily, 2014 kicked off without a hitch on June 13th.
Opening Night
A fine jewelry exhibit titled "Never Too Light," featuring pieces by Fendi heiress Delfina Delettrez at the new ISTANBUL'74 art, fashion and design gallery, located in a 19th-century building Istanbul's Galatasaray neighborhood, opened the weekend's festivities. The inaugural show, on display until June 24th, highlights the designer's Spring 2014 collection and includes watches stripped of their faces, earrings of dangling pearls and emeralds, and her signature eye rings displayed on floating plates that spin above the table thanks to some optical magic.
Culture Fix
"This festival is amazing because we're free and open to the public," explains Müftüoglu Eseli, who ensured that anyone in the city, in particular students and young people, could have access to the 13 panel discussions, which included participants like designer and actor Waris Ahluwalia, director Abel Ferrara, photographer Peter Beard, and model Liya Kebede.
On Saturday, June 14th, the Vakko Fashion Center played host to a screening of Cuban-American artist José Parlá and French artist JR's documentary "Wrinkles of the City," which details their quest to find elderly muses for a series of mural in Havana. The film was followed by a discussion between the pair and Turkish curator Ali Akay. Elsewhere in the city, W's Stefano Tonchi and British fashion photographer Tim Walker discussed the theme of escapism in Walker's fantasy-filled images; and Turbo "Tunç" Dindaş, the man who brought graffiti to Turkey, discussed the influence of graphic design on communication. The day was completed by a dark, 20-minute-long performance of "Brave New World," choreographed by Turkish modern dancer Beyhan Murphy and performed by her company.
On Sunday, over at the historic Pera museum in Beyoğlu, musician Shirley Manson and music journalist Hakan Tamar discussed the music industry's transformation since the '90s. "I decided to that I'm not going to make music if I can't make music that I want to make," Manson told the audience as she recounted her obstacles in the recording industry. Meanwhile at Vakko Fashion Center, Pamela Golbin, chief curator of the Musée de la Mode et du Textile and W's Deputy Editor Armand Limnander spoke to Vionnet's Goga Ashkenazi about reviving a shuttered luxury label. After, Golbin and Limnander chatted with Vionnet designer Hussein Chalayan, who has Turkish roots, about his career. The panel series ended with a screening of artist James Nares's film "Street," an ode to the hurried denizens of New York City sidewalks.
Bacchanalian Nights
What better way to show off Istanbul to the world than through parties and dinners at its most storied sites? The first night's guests—including gallerist David Maupin and fashion designer Johan Lindeberg—dined alongside the Bosphorus just outside the opulent Çırağan Palace, the former home of an Ottoman sultan built in the 19th century that has since been transformed by the government into a luxe hotel. The following night the same guests returned to the shores of the Bophorus at the Marmara Esma Sultan, an Ottoman mansion that was renovated into a cultural center, where Scottish artist Robert Montgomery torched one of his poems and guests gathered inside to watch whirling dervishes at the NEF-sponsored gala. After dinner, the crowd headed back downstairs for a one-night pop-up of André Saraiva's Paris and New York-based hot spot Le Baron. To close the festival, guests boarded a boat for a cruise along the Bosphorus, where they had a traditional Turkish dinner on the Asian side of the city.
Delfina Delettrez. Photo by BFAnyc.com.
The "Wrinkles of the City" screening at the Vakko Fashion Center. Photo by BFAnyc.com.
Shirley Manson. Photo by BFAnyc.com.
James Nares. Photo by BFAnyc.com.
Goga Ashkenazi and Stefano Tonchi. Photo by BFAnyc.com.
Brave New World performance. Photo by BFAnyc.com.
Demet Muftuoglu Eseli, Liya Kebede, Caroline Koc, and Hussein Chalayan. Photo by BFAnyc.com.
Outside the Ciragan Palace. Photo by BFAnyc.com.
Dani Morla. Photo by BFAnyc.com.
Sedar Gulgun, Ece Ege, Dice Kayek, and Waris Ahluwalia. Photo by BFAnyc.com.
Dinner at Ciragan Palace. Photo by BFanyc.com.
Whirling Dervishes. Photo by BFAnyc.com.
Bethanie Brady, Billy Bush, Cem Hakkon, Shirley Manson, Robert Montgomery, Demet Muftuoglu Eseli, Waris Ahluwalia, JohanLindeberg, Liya Kebede, Nate Freeman, Katy Donoghue, Julie Baumgardner, Marcella Zimmermann, and Alphan Eseli. Photo by BFAnyc.com.