Introducing Auto Body, a New Brand of Vintage-Inspired Pants
Cassie Goodman, the daughter of Trash and Vaudeville's founder, goes out on her own with a line of pants for the modern body. Jillian Hervey of Lion Babe is already a fan.
---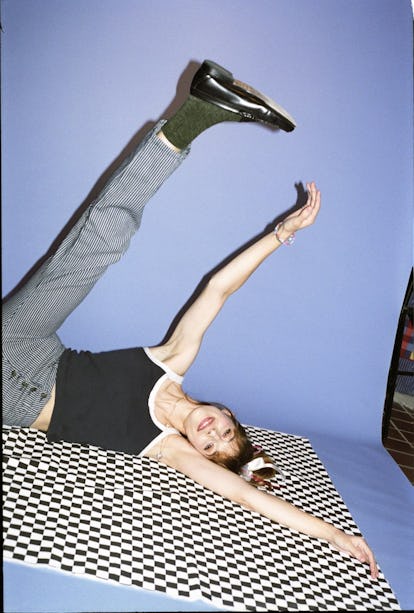 Eric Chakeen
Imagine a single pair of pants that could fit everyone from Jillian Hervey of Lion Babe to image-maker Tracy Antonopoulos to IMG model Susannah Liguori to May Hong, a young artist and recent Adidas model.
Such an item exists and credit for it goes to Cassie Goodman, who has somehow achieved this at 24 with Auto Body, a vintage-inspired pants line for "all makes and models." Pun intended.
Goodman graduated with a fine arts degree from the Pratt Institute in 2014 but has always known she wanted to go into fashion. Her father founded Trash and Vaudeville, the legendary East Village "punk emporium," and her parents also have a clothing line together, Tripp NYC, which is of a similar aesthetic.
"Clothing has been a part of my life for as long as I can remember," said Goodman recently. "I grew up with trade shows, fabric markets, and rag houses as my daycare and designing and sewing as the activities."
Since graduating, Goodman has spent some time working behind-the-scenes at both of her parents' establishments, but has now decided to go out on her own with a brand that fits the wants and needs — not to mention bodies — of her friends. From vintage-inspired pinstripe pants to corduroys with a button fly, Auto Body wants to be your go-to staple. Goodman herself alternates between two styles, and so far, they're all high waisted with a perfect hip hug. Having a background in fashion as storied as hers, it's safe to say that Goodman knows what works.
Auto Body Fall 2016 Lookbook
What are some of the vintage cuts you're inspired by, specifically? Where you looking at any images or garments when designing the collection? I was inspired by the copious amount of vintage pants I've collected through the years. Especially those from the '60s and '70s and with a utilitarian history. I'm often torn between my love for the boyish fit and look of men's work pants and the feminine seduction of classic '70s sky-high, booty-hugging women's pants. I wanted to create something that satisfied both.
Are the styles unisex? They were created with the female body in mind, but can be worn by anyone and everyone. I see the Lillian as being both feminine and masculine; a reflection of my own personal style. I wanted to make something that lets you feel comfortable and honest in what you're wearing, whether that's feeling masculine or feminine or both. Auto Body is for all makes and models.
What was the inspiration behind the name Auto Body? I used to work a bit in New Jersey and while driving through I passed by my fair share of auto body shops. I am always attracted to the architecture and aesthetics of these shops. They are these very simple utilitarian workspaces, built exactly for what is going on inside and out, but they're also ornamented with beautiful colors and hand-painted details and signs, many of which show their history through the fading and decay. But I'm also playing with semantics a bit here. These shops service and repair vehicles to make them fit and work in the modern world. They're maintaining and restoring the bodies of them. I want to service, maintain, and restore what we put on our bodies as well to fit into the modern world on modern bodies. I enjoy a good pun!
Your family has a history in the fashion business. Were you inspired by your parents at all? My parents are both in the fashion business. My dad founded Trash and Vaudeville in the East Village in 1975 and together they also have a clothing line, Tripp NYC. So, as trite as this might sound, clothing has been a part of my life for as long as I can remember. I grew up with trade shows, fabric markets, and rag houses as my daycare and designing and sewing as the activities. The impulse to do something different and break away from the family business doesn't really ring true for me. Trash and Vaudeville has been around since the '70s and Tripp since the '80s, so going through their archives of funky textiles and vintage pieces definitely gets my mind going. Many of the shirts I've styled Auto Body with are actually vintage Trash and Vaudeville and Tripp.
What are some of your favorite vintage stores in New York City? My mom's closet! I'd say the majority of my vintage clothing education and influence came from that closet and continues to. Both of my parents have always been amazing dressers, and lucky for me quite the hoarders so I didn't have to go very far to gratify whatever style phase I was experimenting in. Also shout out to Local Clothing on 9th street, one of the first vintage shops I would go shop in on my own and still stop by there once a week.
Your daily uniform: Worn-in pants (currently The Lillian, but I switch every other day between the hickory stripe and corduroy for laundry reasons), worn in t-shirt/sweater/sweatshirt (seasonal reasons), worn-in boots or chucks, and always cozy white Rite-Aid socks.
Elements that make up the perfect pair of pants: Functional, effortless, seductive, assertive, versatile, honest.
What made you want to operate the brand under the individual piece business model, rather than collection? I'm creating independent pieces rather than collections because I hope to provide individual additions that can fuse with your own personal uniform effortlessly.
Were you hope to see the brand going in the future? Auto Body will continue to consciously and thoughtfully add vintage-inspired pieces to your modern uniforms… pants and beyond!