Irene Kim on Seoul: An Insider's Guide Before Fashion Week
Before fashion week kicks off in South Korea's capital city, the model and It girl shares her favorite haunts in Seoul for spicy rice cakes, spa-cations, and more.
---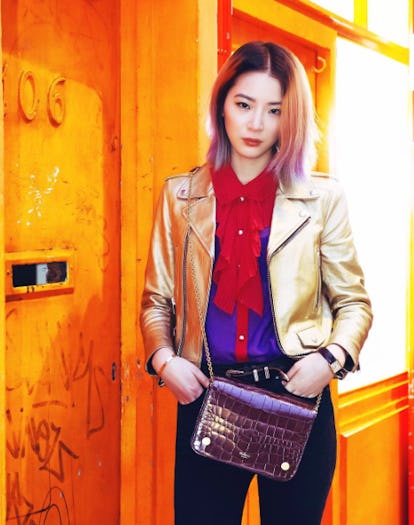 Editors, buyers, and models from all over the globe are set to make their way to South Korea for Seoul Fashion Week, which officially kicks off Tuesday. For those hoping to get a taste of the city beyond the runways, we turned to resident Seoul expert Irene Kim, 28, for insider tips on where to eat, spa, and shop. The Korean It girl-slash-model, perhaps best known on the street-style scene for her rainbow-hued locks, calls Seoul home when she's not jetsetting around the world for one of her several jobs (she's an Estee Lauder global beauty ambassador, in addition to her modeling gigs, being a TV personality and a social media rock star with over 728,000 Instagram followers and counting). Here, Kim shares where you'll find her when she's off-duty, plus what shows to watch out for and her fashion week essentials.
What's your favorite neighborhood in Seoul right now? Cheongdamdong, which is the SoHo, trendy area in Seoul right now.
What are your regular neighborhood spots to hang and get a quick bite to eat? Hannamdong and Cheongdamdong.
Local delicacy you can't live without? Ddukbokki (Korean spicy rice cakes)!
If you're a New Yorker visiting Seoul and friends invite you over to dinner, where should you go to get a hostess gift? Insadong is a very traditional place in Seoul. There are a lot of shops that sell authentic Korean souvenirs, teas, etc. – all great little things for gifts, no matter who they're for.
Favorite places to get spruced up? Premier Thai Spa in Cheongdamdong.
What are your favorite shopping spots? Garusu and Dongdaemun are the best spots for cool boutiques and shops in Seoul.
Neighborhood in Seoul with the best style? Why? Cheongdamdong. The women dress very well and are super chic.
Favorite spots to go for a nice, indulgent meal? Guilty Pleasure—it's actually an American soul food spot with a cozy vibe.
When you are in the mood for a late, late night, you go to… Home! 24-hour food delivery is the best in world here.
What shows are the can't-miss shows of Seoul Fashion Week and why? The shows I'll be walking in, of course! Just kidding. My favorites are Steve J and Yoni P, Low Classic, and KYE (who also shows in NY).
In between shows, you go where to chill out for a minute? There is honestly no time to relax! Haha.
What's always in your bag during fashion week? Water, my own foundation (Estee Lauder Doublewear), portable charger, and gummy worms.
Photos: Irene Kim on Seoul: An Insider's Guide Before Fashion Week
Irene Kim plays coy for the street style paps.
Irene Kim at the DAZED100 launch. Photo by BFA.
Irene Kim with Olivier Rousteing.
Irene Kim at the Miu Miu show during Paris Fashion Week Fall 2016. Photo by Getty Images.
Irene Kim at a Calvin Klein Jeans event in Hong Kong. Photo by Getty Images.
Irene Kim at Paris Fashion Week Spring 2015. Photo by Getty Images.
Irene Kim at Paris Fashion Week Fall 2015. Photo by Getty Images.