It Girls Irene and Lydia Forte Reveal Their Insider Guide to Brussels
The glamorous daughters of Sir Rocco, the English hotelier, share their Brussels, home to dad's popular Hotel Amigo.
---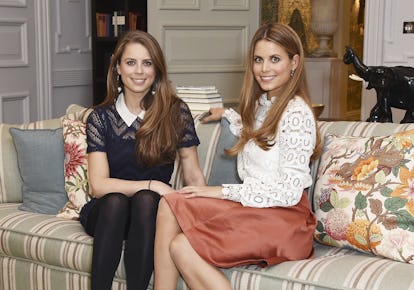 Dave Benett Getty Images for Rocco Forte Hotels.
Irene and Lydia Forte may call London home, but they often travel via train to Brussels for meetings at Hotel Amigo, a property owned by their hotelier father Sir Rocco. While in town, Irene (Rocco Forte Hotel's Brand Manager) and Lydia (Restaurant and Beverage Development) also make time to enjoy Brussels at their leisure, taking in the charming destination with beautiful scenery and architecture, friendly locals, great boutique shopping and antiquing, and plenty of culinary options. "Brussels is definitely having a creative moment, with an emerging contemporary art scene and cutting-edge concept shops and galleries popping up all over," they say. "Hotel Amigo is a special place that truly embodies the city of Brussels. When our aunt Olga Polizzi designed the hotel, she immersed herself in the destination in order to incorporate local touches such as artwork by Magritte and subtle references to Art Nouveau, as well as Tintin cartoons on the bathroom walls." Here, they share their guide to Brussels.
Where to Shop The Delvaux luxury leather goods boutique on Galerie de la Reine is always one of our first stops when we arrive in Brussels. We love checking out the latest designs with their Artistic Director Christina Zeller (full disclosure: last holiday season, Hotel Amigo teamed up with Delvaux to create a Magritte-themed Christmas tree for the hotel).
We always ask our Aunt Olga Polizzi for antiquing tips while visiting Brussels (she's the Director of Design for all Rocco Forte Hotels). Brussels truly is Europe's greatest antique shopping city! Our aunt has introduced us to some of her favorite shops in La Sablon district including Michel Lambrecht and Philippe Lange.
We love to drop by the boutiques not far from Hotel Amigo on Rue Dansaert, but if time allows, we'll take a detour to Antwerp for some serious fashion finds. Christina Zeller turned us on to some of the top shopping experiences in Antwerp including Renaissance (a great multi-brand store), Coccodrillo (the best shoe selection), and Dries van Noten.
Brussels is also home to the iconic biannual Flower Carpet event, during which the Grand-Place is transformed into a magical flower carpet every other August. If you aren't able to make it to Brussels for this special event, make sure to stop by the floral shop of the amazing master Belgian florist Thierry Boutemy (known for his work on Sofia Coppola's film Marie Antoinette, as well as collaborations with Mario Testino, Lanvin, and Dior).
Just recently, we visited the showroom of the renowned Belgian hat designer Elvis Pompilio. We are always on the lookout for beautiful hats and headpieces for events in London, and his designs are so incredibly creative!
Where to Eat The Dandoy family biscuits atelier produces some of the best speculoos in the city (with 100 percent natural ingredients). We usually go to the original shop on Rue au Beurre, but if we're in the mood for traditional afternoon tea service, we'll head to the Maison Dandoy Tea Room on Rue Charles Buls.
One of our favorite restaurants for dinner in Brussels is Belga Queen which is housed in a magical 19th century bank building. It takes a modern twist on the traditional brasserie, and the atmosphere is elegant yet trendy.
We can't leave Brussels without a trip to Pierre Marcolini for our favorite Belgian chocolates… the perfect treat to take back to our friends and family in London!
Where to Drink Hotel Amigo's Bar Amigo is a lovely spot for after-dinner drinks, and a must-try is the bar's Gin and Tonic tasting experience which gives you a choice of three unique gin and tonic creations featuring gins from different countries around the world.
Where to See Art Brussels' emerging contemporary art scene is very impressive, so we always try to fit in some gallery hopping. Our top picks include Jan Mot, Almine Rech, Greta Meert, Xavier Hufkens, and Rodolphe Janssen.
Where to Stroll Brussels is filled with some of the most beautiful green spaces in Europe. We like to wander through the garden of the Mont des Arts or along Bois de la Cambre, and not to be missed is Sunday brunch at L'Orangerie, a restaurant in Egmont Park.
Watch W's most popular videos here: