Iris Apfel, 94, Can't Stop, Won't Stop
You can never have too much Iris. Recently, she's been getting treated as if she was "a rock star and Queen Elizabeth rolled together," she said. We say: It's about time.
---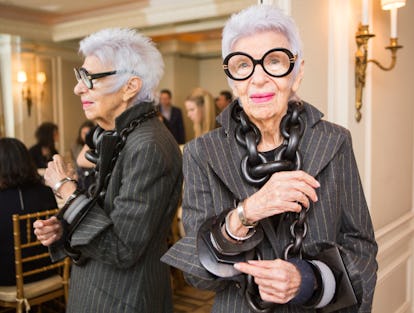 Carl Timpone/BFA.com
From sitting front row at Paris Fashion Week to squeezing in vintage shopping before dinner with Azzedine Alaïa, Iris Apfel's schedule would be impressive even if she weren't a nonagenarian. Now back in New York, she hosted a breakfast on Friday at the Carlyle Hotel to launch her new collaboration with WiseWear, a collection of flashy, health-monitoring bracelets. (Did we mention she designs, too?) In between speeches and bites of bacon, she took some time with style and aging with grace.
It looked like you had a great time at Paris Fashion Week. How was your trip in the end? Well, I did a program for Le Bon Marché and I was absolutely besieged. If I were a rock star and Queen Elizabeth rolled together, I couldn't be treated in a more fantastic fashion. I was mobbed every place I went. Our ambassador to France made me a beautiful cocktail party at the residence of the Embassy building, and I did some pictures at Karl Lagerfeld's studio. It was really wonderful, really hectic.
What are your favorite places to shop there? I didn't have one minute to shop this time, and I hadn't been in 11 years, so I haven't shopped in all that time, but I used to go to the couture shops there – you know, Dior, Nina Ricci and everybody. I know Le Bon Marché can satisfy everybody's needs, and it's a beautiful store, it's been redone since I was there and it's just got everything – even J. Crew, and the most fantastic food department.
Did you have any great meals there? Azzedine Alaïa cooked a dinner for me, which was fabulous. It was a fish dinner. I've never had such good scallops. They tasted like they just jumped out of the sea. He loves to cook and he has a big, wonderful kitchen, and he had some of his friends and told me to invite some of my friends. He lives in a converted mattress factory, where he has his atelier and showroom with his kitchen.
What about your favorite stores in New York? Well I love Bergdorfs, but I don't get too much chance to stop. I'm so busy all the time, and at my stage of the game, you know I've been buying for 94 years, I really don't need very much. I'm giving away.
What's your favorite thing you own? Oh, everything I own, I love. I don't play favorites.
How would you describe your style? I don't describe my style – I don't think it's my place. That's for other people to do.
What are you wearing today? This is a vintage Valentino jacket – everything I have now it seems is vintage, you know by what vintage standards are today – and these are cashmere pants from Krizia. Then I have this necklace from a Danish designer, and these bracelets from WiseWear, which are great for stacking.
Anything you've added to your closet recently that you're excited about? I found a vintage red fox coat, which was the only thing I got in Paris. On a Saturday at about 6 o'clock my friend and I had about an hour before we had to go to dinner, so he took me to some vintage store he knows. I've always wanted a rusty red fox coat, and there it was. I was in love with it, and I never wore anything so fast – I wore it to Alaïa's house that night.
94-Year-Old Iris Apfel Takes Paris Fashion Week
"Caught by the paparazzi on the way to the Dries van Noten show! I'm a geriatric starlet!"

Photo by BFAnyc.com.
"It was such a pleasure to be in Paris enjoying my friend Dries van Noten's FW16 show before my exhibition at Le Bon Marché!"

Photo of Dries van Noten and Iris Apfel by BFAnyc.com.
"What a spectacular show! I enjoyed seeing Dries again and congratulating him on a stunning collection."

Photo by BFAnyc.com.
"I may be in Paris, but I always love seeing friends from New York! Here I am with my good friend Linda Fargo."

Photo by BFAnyc.com.
"I had a great time with Mademoiselle Agnes at the 7L library. Merci Karl Lagerfeld!"

Photo by BFAnyc.com.
"Here I am finally walking into my exhibit at Le Bon Marche with Patrice Wagner, President of Le Bon Marche."

Photo by BFAnyc.com.
"Le Bon Marche also created a collection inspired by me! The collection includes my favorite Mongolian wool bag, sunglasses inspired by my signature specs, (the bigger the better!) and a bowtie, often worn by my husband Carl."

Photo by BFAnyc.com.
"It has been so fun seeing my exhibit at Le Bon Marche come to life! I have always enjoyed sharing my style and my passion for creating is stronger than ever."

Photo by BFAnyc.com.
"I think this would go great in my collection!"

Photo by BFAnyc.com.
"Off to the International Women's Day Luncheon at the American Embassy in Paris."

Photo by Getty Images.
"What a fun table! Here I am with actress Marisa Berenson and Kathy Calvin, CEO of the United Nations Foundation. These women inspire me, even at 94!"

Photo by Getty Images.
"Quick stop for lunch at Ladurée of course! It has always been my favorite place in Paris to satisfy my sweet tooth."

Photo by BFAnyc.com.