Netflix's Irreplaceable You Trailer: Gugu Mbatha-Raw, Christopher Walken, and Kate McKinnon Attend Group Therapy
"Irreplaceable You" also stars Christopher Walken.
---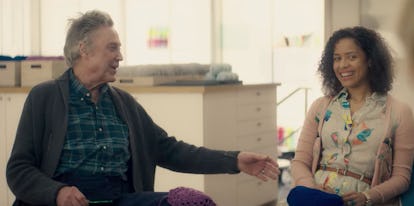 Gugu Mbatha-Raw, Christopher Walken, Kate McKinnon, and Steve Coogan sitting down for group therapy sounds like a pretty solid basis for a Saturday Night Live sketch, but the project that brings them together is actually Irreplaceable You, a Netflix original movie. So while the results do indeed provide laughs, the subject matter gets a little darker than the setup may have you anticipate. They're playing characters in a support group for those with terminal illnesses as they deal with the thought of leaving their loved ones behind.
The trailer starts with Mbatha-Raw and Game of Thrones' Michiel Huisman as a young couple staring at a medical diagram of a womb. "It just look like something out of a sci-fi horror movie," quips Huisman, in what may be a sly way to remind you of Mbatha-Raw's last triumph at Netflix, the "San Junipero" episode of sci-fi anthology series Black Mirror. The couple, we learn, are elementary school sweethearts and are trying to conceive. Things take a sudden tonal shift when Mbatha-Raw learns that she's not pregnant, but actually has a cancer.
She soon joins a support group, which we're quickly introduced to when Walken admits that he hopes his wife "keep up the bird watching while i'm going… with whatever knew guy she's banging."
"Welcome to group," quips Mckinnon.
Irreplaceable You also boasts a female director in Stephanie Lang (who is also a producer and director of Veep) and a female writer in actress Bess Wohl.
The film also comes after several similarly-themed memoirs have hit the best sellers chart, a genre that got even more attention after it was revealed that the widow of Paul Kalanithi (whose final year living with lung cancer before passing at 37 was documented in When Breath Becomes Air) and the widower of Nina Riggs (whose memoir The Bright Hour was written before she passed of breast cancer at 39) had found love with each other. Likewise, Mbatha-Raw's character attempts to find a new partner for Huisman before she passes, but is reminded to enjoy living every moment of her life instead of trying to plan out the rest of his.
The film is scheduled to hit Netflix on February 16th.
Related: Gaga for Gugu
Photos: The Belle of the Ball
Amma Asante, Stefano Tonchi, and Gugu Mbatha-Raw. Photo by Startraksphoto.com.
Tamron Hall. Photo by Startraksphoto.com.
Yaya DaCosta. Photo by Startraksphoto.com.
Olivier Theyskens and Yigal Azrouel. Photo by Startraksphoto.com.
Gugu Mbatha-Raw and Martha Stewart. Photo by Startraksphoto.com.
Star Jones and Amma Asante. Photo by Startraksphoto.com.
Tamara Mellon. Photo by Startraksphoto.com.