Is Chris Pine the Best Actor of All the Hollywood Chrises?
Hell or High Water received three Golden Globe nominations yesterday. But its leading man was snubbed.
---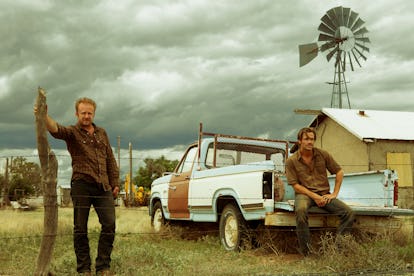 When director David Mackenzie's Hell or High Water, a nearly flawless, minor-key contemporary Western, ambled unceremoniously into theaters in August, it was unanimously — albeit not loudly — hailed as the unexpected sleeper hit of the year. Even following the subsequent release of fall's requisite awards bait, the film has maintained its position on most best-of-2016 lists. A thriller that follows the brooding Toby (Chris Pine, all dirtied up) and his loose canon brother Tanner (Ben Foster, perpetually dirtied up) as they loot a string of small town banks while eluding the long arm of the law (Jeff Bridges), the film is stylish, clever and brimming with great performances, with a surprisingly buoyant box office to boot.
Accordingly, yesterday's Golden Globe nominee announcements rewarded Hell or High Water for its small-scale perfection with nods for Best Drama, Best Original Screenplay and Best Supporting Actor (very well deserved, Jeff Bridges). With these nominations, this film has probably outperformed its awards potential this season — it's hard to imagine it going much farther, with its problematic anti-statue trifecta of being overwhelmingly male, overwhelmingly white, and a little late to the housing crisis genre, an issue which underlies the cops-and-robbers plotline.
But there was one snub: Chris Pine, who delivers a career-defining performance that nobody seems to be talking about. Since he emerged as a leading man in the first Star Trek, he has felt the burden — and what a terrible, horrible thing to be saddled with — of being objectively beautiful and very, very charismatic. His chin and artful stubble has made a him a movie star, but it's also worked against him as an actor. (It took another Hollywood Chris — Chris Evans — a number of somber, scruffy parts to rub away some of that Captain America sheen.)
Hell or High Water should not be the first film that changes our position on Pine; he combined palpable danger and mystery in Z For Zachariah last year. But it's the first part for which he has had a chance at a statue. In the film, he eschews melodrama for a brooding understatement. From the first frame, he has us in his hoodie pocket, even as he commits felony after felony. There's a real sense of turmoil in those piercing blue eyes. It's a performance that has natural parallels to Casey Affleck's restraint in Manchester by the Sea; both are troubled antiheroes trying to do right by their families. Affleck, who is more everyman than leading man, received a nomination yesterday.
Far be it for us, of course, to stand up for the handsome white guys in Hollywood. But Chris Pine was snubbed. And in the pantheon of all the handsome Hollywood Chrises — Pine, Evans, Hemsworth, and Pratt — the best actor race really comes down to Captain Kirk v. Captain America.