Is San Francisco Ready to Become an Art World Capital?
The city now boasts the largest contemporary art museum in the country. But can San Francisco really deliver?
---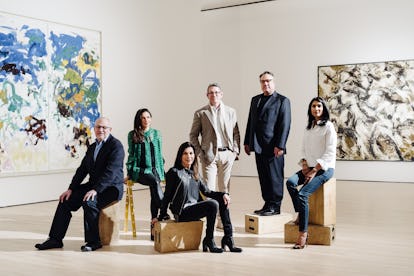 Photograph by Jake Stangel, Styled by Lauren Goodman; Hair and makeup by Joshua Conover for Oribe at Workgroup; Photography Assistant: Damien Maloney
Not every fundraiser is a celebration, but this year's Modern Ball at the San Francisco Museum of Modern Art (SFMOMA) was positively ecstatic—with dancing in the cavernous Haas Atrium, the new Schwab Hall, on the loading docks and even stairway landings, where guests wearing headphones boogied in a "silent disco." For almost three years, the Bay Area had lost the center of its art world while SFMOMA was closed for a massive expansion and renovation by the Norwegian architecture firm Snøhetta. Now the city boasts the largest museum of modern and contemporary art in America. More than 240 collectors contributed $610 million to a capital campaign and donated some 4,000 artworks. Many of those patrons attended the ball, mingling with art world newcomers for whom the key draw was a good party with a "creative" dress code.
Stanlee Gatti, the Bay Area's premier architect of major social events, masterminded the affair, right down to the mirrored table centerpieces inscribed with the words no matter where you go, there you are. The quote from Confucius took on a new twist when cofounders of Instagram (Mike Krieger) and Twitter (Evan Williams), Facebook VPs (Dan Rose, David Marcus), and top backers of YouTube (Pierre Lamond, Stuart Peterson) found themselves in the same room. None of them was wearing a hoodie. With one exception, they had all donned subdued suits and white shirts with ties.
Due to the exorbitant cost of real estate and the paucity of affordable studio space, San Francisco is not home to a large artist community. Until recently, the gallery scene was also small, comprising only a handful of dealers who show international art, among them Jeffrey Fraenkel, Anthony Meier, and Jessica Silverman. But local stalwart John Berggruen is opening a large new space across from SFMOMA, and Larry Gagosian has put down stakes, with a 4,000-square-foot space around the corner. New York's Pace Gallery, meanwhile, is also making waves, having set up in Palo Alto and cohosted artist dinners with the richest women in Silicon ­Valley—Laurene Powell Jobs and Laura Arrillaga-Andreessen. "We are in Palo Alto for the good, positive energy," says Pace's Marc Glimcher. "The percentage of people who buy is low, but the quality of the conversation is high. People want to talk about the artist as inventor. It is fun for us and for people who are not addicted to the hedge fund model of an art gallery."
Indeed, what distinguishes San Francisco's art scene are its vibrant and philanthropic collectors. "San Francisco has always been a pretty wealthy town," Gatti says. "Much of what happens here depends on the benefactors. Our ballet, founded in 1933, was the first professional dance company in America. Our opera and museum of modern art are the second-oldest institutions of their kind in the country." So while a city like Los Angeles recently saw its foremost arts philanthropist, Eli Broad, set up his own private museum, San Francisco has a long history of collaborative support for the arts.
Bay Area collectors are also said to be less fickle. "I don't know a collector here who is a flipper," says Gary Garrels, SFMOMA's senior curator of painting and sculpture, who had his pick of major works on 100-year loan from the late Don Fisher and his wife, Doris, cofounders of Gap, for the museum's opening exhibition. "People don't tend to pursue the new, hot names. They proceed cautiously because they intend to live with the work."
It's no surprise then that a number of local interior designers are making it their business to understand contemporary art as occasionally difficult and not traditionally beautiful. Collectors rehang often, swapping in, say, a newly purchased shiny red Anish Kapoor for a purple Richard Prince Joke painting. "I don't look at art as decorative," says the designer Steven Volpe, who has renovated and furnished the homes of many SFMOMA trustees. "I had an epiphany about five years ago. Art and design are two separate camps with different rules and values."
It may be that San Francisco collectors are less likely to be short-term speculators because of the types of businesses from which their wealth derives. In these parts, one finds fewer hedge fund managers than venture capitalists. The SFMOMA board, for example, includes Jim Breyer (an early investor in Facebook), Danny Rimer (a stakeholder in Skype, Dropbox, and 1stDibs), and Thomas Weisel (a long-standing backer of myriad Silicon Valley firms). Moreover, in an attempt to bolster the local art scene, Andy Rappaport, another venture capitalist, has developed Minnesota Street Projects, which features subsidized studio and gallery spaces, in a forlorn warehouse district aptly named Dogpatch. While hedge fund managers thrive on the fast trades of liquid assets, the best venture capitalists often wait years before their investments win big.
Sabrina Buell, an art consultant with a large roster of clients that includes Krieger and his wife, Kaitlyn, as well as Donald and Doris Fisher's son, Bob (current president of the board of SFMOMA), and his wife, Randi, is not interested in those who want to speculate on art. On the contrary, she coaches her clients to think about their responsibility to the careers of living artists. "We want our collectors to be supportive of museums, not only because it is the right thing to do, but because gallerists value collectors who might gift works to their local institutions. It positions our clients to obtain first choice of the work," says Buell, whose approach is as much about education as it is buying.
As Alka Agrawal, a collector and museum trustee who chairs a patrons' group called the Curators' Circle, observes, "Cutting-edge collectors are not necessarily the youngest." Take Pamela and Dick Kramlich, who have one of the most comprehensive collections of video art in the world, or Norah and Norman Stone, whose adventurous spirit has made them early acquirers of works by artists like Jason Rhoades and Jeff Koons, and whose reinstall of Stonescape, their farmhouse and exhibition space in nearby wine country, is one of the highlights of the summer social calendar.
One medium in which the Bay Area has particularly strong holdings is photography. Ever since pioneering photographers sought to document the landscape of the Wild West and Leland Stanford commissioned Eadweard Muybridge to determine whether all four of a horse's legs leave the ground while it trots, locals have embraced photography as a new technology. SFMOMA's Pritzker Center for Photography is the biggest exhibition space devoted to the medium in the United States. Susan Swig, who sits on the museum's ­photography-acquisitions committee, explains that San Franciscans started buying photography when it was "considered second-class to painting and sculpture," and that the "sizeable community of like-minded people" has made it all the more exciting to collect.
That community now has a glorious brick-and-mortar (and fiberglass-reinforced polymer) building in which to congregate, and art is emerging as the new social currency. While it is not in the nature of Bay Area collectors to show off their wealth, they may no longer have a choice. The spotlight is on them now.
Who's Who of the San Francisco Art Scene
From left: SFMOMA senior curator Gary Garrels, art consultant Sabrina Buell, SFMOMA trustee Susan Swig, interior designer Steven Volpe, event planner Stanlee Gatti, and SFMOMA trustee Alka Agrawal, in the Doris and Donald Fisher Collection Gallery of SFMOMA, with Joan Mitchell's Bracket, 1989, and Lee Krasner's Polar Stampede, 1960 (from left).

Photograph by Jake Stangel, Styled by Lauren Goodman; Hair and makeup by Joshua Conover for Oribe at Workgroup; Photography Assistant: Damien Maloney
The newly reopened SFMOMA.

Henrik Kam/courtesy SFMOMA
Collectors Helen and Charles Schwab, at the Modern Ball in May.

Courtesy of Drew Altizer
Collectors Norah and Norman Stone, at the Modern Ball in May

Courtesy of Drew Altizer
At the opening party for the new Gagosian gallery, in San Francisco: Instagram cofounder Mike Krieger and his wife, Kaitlyn.

Courtesy of Drew Altizer
Collectors Bill and Sako Fisher, with Buell and her husband, the designer Yves Béhar.

Courtesy of Drew Altizer
An installation view of the Gagosian inaugural exhibition, "Plane.Site"

Photography by Ben Blackwell/Alberto Giacometti Estate/Licensed by VAGA and ARS, New York, NY/Mark Grotjahn/Jasper Johns/Licensed by VAGA, New York, NY/2016 The Andy Warhol Foundation for the Visual Arts, Inc./Artists Rights Society (ARS), New York/Courtesy of Gagosian Gallery
M-PROJECTS/Courtesy of Gagosian Gallery
Watch all the episodes of "The Myth of Orpheus and Eurydice," a four-part film series by Gia Coppola, here. Produced for Gucci by W magazine.