Is the Athleisure Trend On Death Watch?
Do you love athleisure? Do you hate athleisure? The trend may have hit peak overexposure, industry watchers say.
---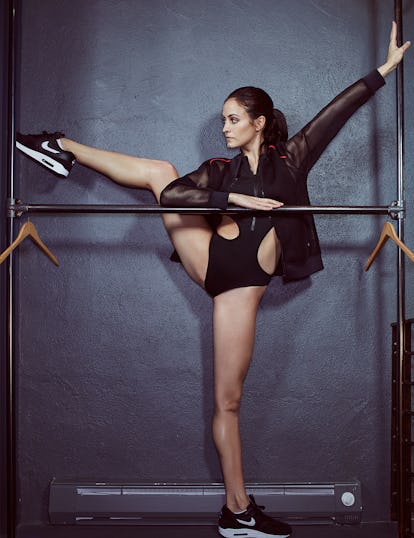 Photographed by Ed Singleton, styled by Caroline Grosso.
If there ever was a time for the Athleisure trend to reach its natural peak it only makes sense that it would occur around the time of the 2016 Olympics, when we celebrate athletic glory by leisurely sitting on our coach in front of a television for hours at a time.
Sure, the apparel niche seems to be going as strong as ever by some measures – for instance, Under Armour just released its first preview of a collaborative lines with Tim Coppens; olympians themselves are decked out in Riccardo Tisci's designs for NikesLab; and even McDonald's (yes, the burger chain) released its own athleisure line in Australia this month. It seems everywhere you look there's a new line of high fashion yoga pants or technologically-advanced fabric jackets.
But the trend may already have one Olivier Rousteing for NikeLab sneaker-clad foot in the grave. That is, at least, according to Jan Rogers Kniffen, chief executive of J Rogers Kniffen WWE.
"I think athleisure is rolling over for fall and its growth rate will dramatically slow, and then stall out," he wrote in the trade publication The Robin Report.
Kniffen argued he's talked directly to consumers as well as buyers at several types of stores, and is starting to get the sense that the trend is on its way out. He also went out on a hunt in trendy Austin, Texas, and couldn't find a single woman rocking the athleisure trend in any of the "coolest part[s] of cool town."
"I spent four hours, on a Saturday morning, in the cool part of Austin," he went on. "From Starbucks, to a Black and Gold bar, to quaint breakfast places, salons, and art galleries, there was not one woman in athleisure gear to be found. Not one in four hours of searching in the coolest part of a cool town."
Though, before you prepare a plot for athleisure in the fashion trend graveyard aside the still warm grave of merch, Kniffen predicts more of an immediate slowdown than a total impeding collapse. Some even take issue with that prognosis. The Cut predicts that the trend may continue to evolve, but into a more toned down form: "Maybe designers will incorporate performance-wear in a less showy way (one that hopefully doesn't entail too much neon) or opt for subtle sporty touches."
It's not exactly like women are going to say, "You know what, I want to go back to wearing uglier, more basic workout gear," either. They just may decide to keep those clothes more confined to the gym.
One note to point out though, is that Kniffen only predicted a slowdown on athleisure on the women's side of the market. As we all know, once you tell men something is both fashionable and comfortable, they tend to hang onto the trend for as long as possible. To wit, it's 2016 and we're still debating whether or not cargo shorts are cool..