Isa Genzken: To New York, with Love from Berlin
The artist's love letter to the city finally arrives
---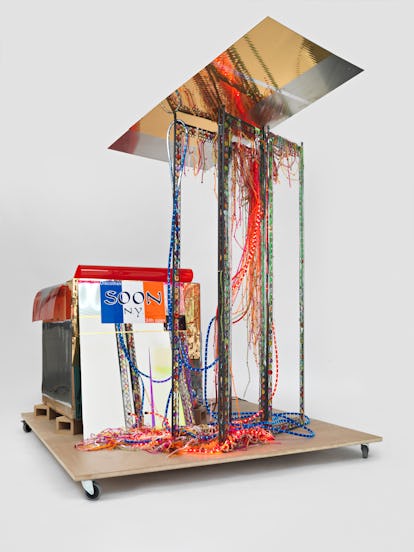 The German artist Isa Genzken, 64, had her debut show at Düsseldorf's Konrad Fischer Galerie and is now based in Berlin, but she has visited New York every year since she was a teenager. When her first major American retrospective opens at the Museum of Modern Art on November 23 (through March 10, 2014), New Yorkers will see just how much their city has influenced her sensibility­—whether in a series of maquettes titled "Ground Zero" or the 2006 photo book I Love New York, Crazy City. The Big Apple, says the show's curator, Laura Hoptman, has been both Genzken's inspiration and goad—"a place where she's come to change her artistic language." For the past decade or so, her language of choice has been a boisterous form of sculptural assemblage, with objects such as pizza boxes and metal walkers corralled into unwieldy towers. It's the lingua franca of the contemporary art world, and it's one reason her work looks so conversant with that of younger artists like Josephine Meckseper, even as her earlier sculptures nod to minimalists like Carl Andre. "Genzken gets how we experience this glut of information and stuff and somehow is able to make sense of it all," Hoptman says.
Photos: Isa Genzken: To New York, with Love from Berlin
Disco Soon (Ground Zero), 2008.
Hospital (Ground Zero), 2008.
Schwules Baby (Gay Baby), 1997.