Unzipped and Uncensored: When Isaac Mizrahi Met Nick Waplington
Ahead of the publication of the new book The Isaac Mizrahi Pictures, photographer Nick Waplington recalls a simpler time in fashion.
---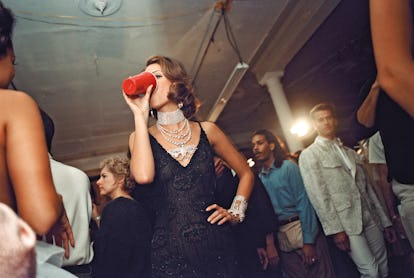 For all his protests that he doesn't know fashion, the photographer Nick Waplington has seen quite a lot of the industry: He spent six months with Alexander McQueen, documenting the making of what would be the designer's final collection. Handpicked by McQueen for his gritty, documentary style, Waplington approached the task with his usual intensity, honing in on the lone fit model McQueen used for months on end. In the week before the show, though, the studio shifted to Paris, and Waplington found himself in an environment familiar from his only other fashion gig 15 years earlier: shooting backstage in New York for Isaac Mizrahi.
"Obviously, there were new technological innovations, like digital cameras for the looks on the boards rather than Polaroids," Waplington explained on a recent morning in L.A., where he was listening to the Cocteau Twins in his garden. "But I was amazed how similar it was to my experience 15 years previously. It was very, very similar – the kind of pressure and way things were done."
That first gig also came about after a different fashion icon sought him out – none other than Richard Avedon. Interested in purchasing Waplington's student photos, which he'd seen on a visit to London's Royal College of Arts, Avedon reached out to the young photographer, sparking a friendship that began with dinners at Avedon's studio on Manhattan's Upper East Side, and lasted until his death in 2004. In the late '80s, when a young Mizrahi asked Avedon if he'd be interested in shooting his campaigns, Avedon instead put Waplington up for the job, which he soon got after an audition of sorts – although it wasn't his lack of fashion experience that was the concern, per se.
"They sent me for a try-out just to see how I would react to a lot of young, naked women," Waplington said with a laugh. "Back in those days, I was the same age as the models – they weren't 15 and straight from the Ukraine. So I actually knew, and still know, quite a few of them. And I used to go out with them, which was fun."
Take Naomi Campbell, for example. "We used to chat a bit about things back home – TV things, really," he said of his fellow Brit. Or Veronica Webb, who's still a friend, and Helena Christensen, with whom Waplington would go out drinking as the third wheel with her boyfriend, musician Michael Hutchence. When, in 1991, the run-up to a Mizrahi show coincided with Waplington's first book release, many of these 90's cover girls came to his opening at Aperture, bringing their copies of Living Room to Mizrahi's Soho office for Waplington to sign the next morning. (The portraiture series, a years-long record of working-class British families, was the same one that later caught McQueen's eye.)
Waplington went on to photograph for Mizrahi for nearly four years, in ad campaigns, stories for American Vogue, and plenty of behind-the-scenes pictures. The latter, though, are just now being published for the first time in The Isaac Mizrahi Pictures, a Damiani book whose March 22 release is tied to the designer's retrospective at the Jewish Museum. (Like Waplington's McQueen exhibition at the Tate Britain last year – the museum's first-ever solo show by a photographer – the book is studded with other subjects to keep it from being purely biographical. With McQueen, it was scenes of an English landfill; with Mizrahi, it's Waplington's diary of the '90s club scene, where he'd often head after fittings.)
Waplington and Mizrahi might still keep in touch, but they stopped working together in 1993. By then, Mizrahi was no longer an up-and-coming designer; after Chanel bought a stake in his company, it also cut ties with his more experimental collaborators like Waplington. "Chanel decided that they didn't like my style of photography, which is fine. These things happen," Waplington said. "I did it for long enough to make a body of work, which is kind of what I needed to do."
Decades later, it's clear Waplington still feels the way he first did about fashion: "For me, it was just a new environment to take pictures in," he said. "At age 23, it was kind of fantastic, really."
Killing Time with '90s Supermodels: Behind the Scenes with Nick Waplington
Photo by Nick Waplington.
Photo by Nick Waplington.
Photo by Nick Waplington.
Photo by Nick Waplington.
Photo by Nick Waplington.
Photo by Nick Waplington.
Photo by Nick Waplington.
Photo by Nick Waplington.
Photo by Nick Waplington.
Photo by Nick Waplington.
Photo by Nick Waplington.
Photo by Nick Waplington.
Photo by Nick Waplington.
Photo by Nick Waplington.
Photo by Nick Waplington.
Photo by Nick Waplington.
Photo by Nick Waplington.
Photo by Nick Waplington.
In 1995, Isaac Mizrahi became a cult figure. Yes, he was already a rising star in the world of fashion, but a little documentary called Unzipped would make him a household name. After a badly reviewed collection, he allowed his then partner Douglas Keeve to follow him around as he put together his fall 1994 collection. As the legendary Polly Mellen pointed out in one scene, "It erases EVERYTHING."
Photo by Nick Waplington.