Le Miz: Isaac Mizrahi Discusses the New Exhibition About His Life and Career
The fashion designer and TV star is the subject of a new exhibition at the Jewish Museum in New York.
---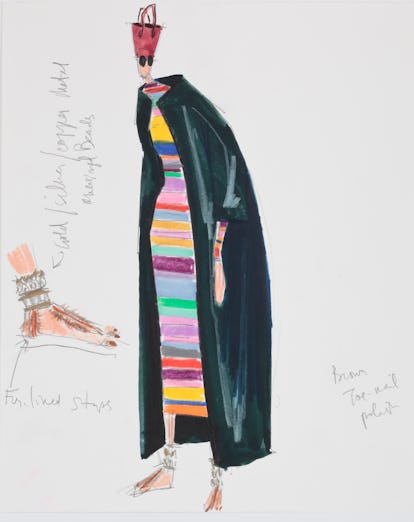 Well before social media and reality TV gave us access to fashion's inner sanctums, Isaac Mizrahi starred in the 1995 cult documentary Unzipped, which offered an uncensored look at the life of a young designer whose candor and wit set the bar for all the fashion movies that followed. "There wasn't anything chic about film crews," he says of the time before designers became celebrities. "Nobody knew about you. You were a person who had integrity, your clothes were expensive, and you receded." With his signature label, which lasted from 1987 to 1998, Mizrahi introduced handbags worn as hats, sneakers with ballgowns, and Star of David belts; he then pioneered high-low fever via his collaborations with Target and QVC. He also made forays into costume design and TV, serving as a judge on Project Runway All Stars, guest-starring on Sex and the City, and hosting the QVC show Isaac Mizrahi Live! His outsize personality and creative bustle are the subject of the exhibition "Isaac Mizrahi: An Unruly History" ____ (March 18 through August 7), at the Jewish Museum, in New York. "I loathe nostalgia," says Mizrahi, who grew up in an Orthodox Jewish family and attended yeshiva before becoming an acting student at Manhattan's High School of Performing Arts. (He appeared in the 1980 film Fame, wearing a jester hat he'd made.) "But there's a way of telling a story about the past as it relates to the present and future." Mizrahi is creating three new coats for the exhibition and reevaluating earlier efforts, such as the 1991 spa collection he showed in a restaurant in SoHo. "There were these down-filled snow-bunny suits with snap crotches. You could come off the ski slopes, snap off the leggings, and be in a bikini in, like, seconds," he recalls. "There was something incredibly daring and futuristic about it. That surprised me. Otherwise, I remember every single thing as if it were yesterday."
Photos: Le Miz: Isaac Mizrahi Discusses the New Exhibition About His Life and Career
A sketch for the Unhapi coat, fall 2009.
Courtesy of Richard Goodbody/The Jewish Museum, New York.
Baby Björn ballgown (with matching baby carrier), fall 1998.
Courtesy of Jason Frank Rothenberg.
Isaac Mizrahi with models at his spring 1997 show.
Courtesy of Bebeto Matthews/Associated Press.
A look from the Cake collection, fall 2011.
Courtesy of Dan Lecca.
Mizrahi, 19, in Fame, wearing a costume he designed.
Courtesy of MGM.
A poster for the documentary that made him a star, 1995.
Courtesy of Miramax/Courtesy of Everett Collection/Alamy.