Scenes From a Marriage
In her debut novel, Isabel Fonseca explores marital angst and adultery, real and imagined.
---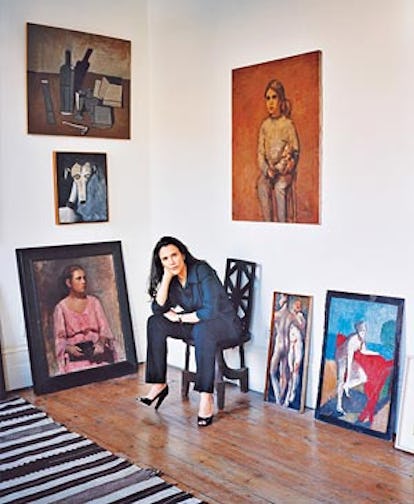 To hear writer Isabel Fonseca describe it, her home life sounds positively serene. She and husband Martin Amis live with their two young daughters in London's Primrose Hill, following a two-and-a-half-year idyll in a small Uruguayan village not far from Punta del Este. There, Amis and Fonseca built a new house, their kids learned Spanish and Fonseca penned her first novel. "The boats would come in, and you knew dinner had arrived because the seagulls would be going crazy," recalls Fonseca, a dark-haired, earthy beauty, over a cup of tea one wet afternoon at London's Covent Garden Hotel. The family has been back in London for a little more than a year. Amis, one of Britain's most celebrated authors, is teaching creative writing at the University of Manchester, and Fonseca's new book, Attachment., will be released in May.
Her new book, Attachment
But already the novel has sparked twitters in the scandal-loving British press for its themes—infidelity and marital angst—and the striking similarities between the book's heroine, Jean Hubbard, and Fonseca herself. Both are 46-year-old former New Yorkers and Oxford- educated writers, though Hubbard is married to a British ad executive named Mark. Hubbard's home is in London, and she and Mark have recently moved to an island in the middle of the Indian Ocean, where one day, after reading a letter addressed to Mark, Jean becomes convinced that he's having an affair with a younger woman. The suspected affair, however, isn't the only hanky-panky going on in the snappy, fast-paced—and often poignant—book.
"Marriage is a very interesting subject," says Fonseca, who got together with Amis about 15 years ago, while he was still married to his first wife, Antonia Phillips, an American academic and the mother of his two sons. "The idea [that] there is going to be synchronicity throughout is almost laughable, isn't it? How can we ever expect that? I think there are periods of difficulty. One of the good things about being a novelist is that you get to think about things and work it all out through your characters, instead of doing it."
She concedes that she may have been asking for trouble given some of the parallels between Jean and Mark and the characters in her own home. But she insists that her novel is no roman à clef. "There's a certain ease in writing about the things you know, of course," says Fonseca, who is as self-deprecating as they come, poking fun at the padded shoulders on her Eighties Jil Sander coat and wondering aloud if an upcoming photo shoot will reveal bags under her eyes. "But it's certainly not my marriage. There's no winking thing going on about my life."
Though she may not have been reporting from the front lines of her own marriage, Fonseca does know firsthand about the fundamental fragility of married life. In her teens, her parents—the late Uruguayan sculptor Gonzalo Fonseca and his wife, Elizabeth, an American painter—divorced. So did Amis's parents, novelist Sir Kingsley Amis and Hilary Amis, now Lady Kilmarnock, after Kingsley left her for writer Elizabeth Jane Howard. When in 1993 Amis left Phillips after nine years of marriage, his relationship with Fonseca prompted much finger wagging in the British press and suggestions that the younger Amis was again following in his father's path—this time as a philanderer. Fonseca, meanwhile, was cast in the role of sultry American heiress and home wrecker. "The way they were treated was extremely unpleasant, motivated by envy and hypocrisy," recalls journalist Christopher Hitchens, one of Amis's oldest friends and the best man at the couple's 1998 wedding at the Westminster Register Office in London.
"Did he leave his wife for me?" Fonseca parries matter-of-factly. "I think you'd have to ask him. That's a very complicated question. Marriages are good marriages, or they are not good marriages. I still don't really know. No one really knows. That's his marriage to another person. But it's certainly true that I was in the picture."
As a result, the press homed in on Fonseca's influence on Amis, who'd been a magnet for media scrutiny ever since his precocious authorial debut at age 24. Some blamed her when Amis ditched his London agent, Pat Kavanagh, wife of novelist Julian Barnes, for Fonseca's U.S. agent Andrew Wylie, which caused a rift between Amis and Barnes.
By then Fonseca had established herself as an author in her own right with the 1995 publication of Bury Me Standing, the highly acclaimed nonfiction account of her years spent living with Gypsies in East Central Europe. Although her husband's literary standing may have deterred her from making the leap from nonfiction to fiction, Fonseca says she tackled the challenge head on. "It might have been a crisis had I been like a lot of fortysomething British men, who would like secretly to be Martin," she says. "But it clearly wasn't. I mean, he's so generous and has such a particular style."
She didn't let Amis read her novel until it was finished. "If he hated it, I would have been devastated," she says, "and if he really liked it, I probably wouldn't have believed him." Still, Amis understood what she was going through. "There are times when you feel absolutely shaken with the loss of nerve," Fonseca says, "and he was encouraging against that frontier, because he suffers from that from time to time."
Like Amis, Fonseca grew up in an artistic milieu. (Her sister, Quina, is a designer; her brother Bruno, who died of AIDS in 1994, was a painter and sculptor; and another brother, Caio, is a much admired painter whose works hang in the collections of the Metropolitan Museum of Art and the Whitney Museum of American Art.) The writers Grace Paley and Donald Barthelme were friends and neighbors, and the family spent holidays at her grandparents' home in East Hampton. Fonseca's maternal grandfather, the self-made J. M. Kaplan, created the philanthropic J. M. Kaplan Fund—of which Isabel is a trustee—with the proceeds of the sale of his Welch Grape Juice company.
After Oxford, Fonseca landed a job as an editor of the Times Literary Supplement. In short order she became known as a glamour girl on London's literary circuit, hobnobbing with Salman Rushdie and Bill Buford, among others. "It's not that hard to be glamorous in England," she says dryly. "She's always been a knockout," recalls Hitchens, who met her in the late Eighties. "She's invigorating to be around—she makes you want to be at your best."
By all accounts she has brought out the best in her husband. "She's made me happier," says Amis, whose new novel, The Pregnant Widow, is due out within the year. "And the girls are divine. I had never raised a girl before, although I do feel a bit outnumbered at home." According to Hitchens, none of Amis's friends—including writer Ian McEwan; his wife, Annalena McAfee; and poet and critic Craig Raine—would have guessed that he'd have survived in a tiny Uruguayan village not being able to speak much Spanish. "But there he was, happy as a clam," says Hitchens, who visited the family in Punta del Este with McEwan.
In addition to their daughters, Fernanda, 11, and Clio, 8, the Amis brood includes Amis's sons, who are in their 20s, and a 32-year-old daughter named Delilah Seale, whom Amis didn't meet until almost 13 years ago, years after her mother committed suicide. Fonseca has fully embraced the Amis clan's complexities, says her longtime friend Katherine Bucknell, a London novelist. "Isabel burrows into their minds and wants it all to work out,"she says, noting the intimacy in the family. "They talk a lot about their feelings. They're novelists, after all, so there's a whole lot of reading and talking going on in the household."
Naturally, all of this is fodder for her writing, though Fonseca insists that she couldn't be less like her heroine, Jean, a sympathetic but essentially weak woman who's lost her focus. Jean's plight, she says, allowed her to ruminate on marriage, illness and aging. "Everything is just fine, and then you have these cloudbursts of acute awareness," she says about the book's larger questions. "It comes with your parents getting old, your children getting big." Her literary therapy, as she calls it, seems to have been a balm, and even the prospect of aging with the balding, 58-year-old Amis strikes Fonseca as an adventure.
"Martin says the shampoo is getting colder every year," she says affectionately. "Those are interesting things to explore."