Isabeli Fontana Went Into the Ocean Fully Clothed for the Paparazzi in Venice
We should all be as shameless about getting the perfect picture.
---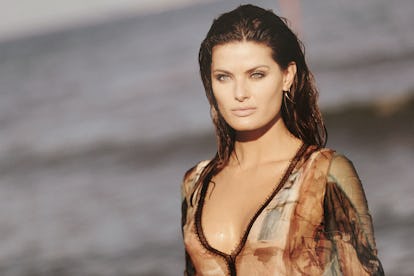 Vittorio Zunino Celotto/Getty Images
As a top model, Isabeli Fontana has worked with some of the most in-demand and demanding designers around but all of that pales in comparison to her latest batch of photos, which weren't for work at all — although Fontana is definitely working it in them. At the luxurious Excelsior Hotel in Venice, Italy, Fontana gave the paparazzi a full show proving that, despite what your social media-dragging friends say, there is no such thing as going too far to get the perfect photo. The shoot started simply enough with Fontana posing in front of the hotel stairs on the beach in a flowing bohemian-inspired chiffon gown by Alberta Ferretti. She posed at the top of the stairs, she posed walking down the stairs, she posed at the bottom of the stairs, she even showed all of her sides to the camera. But a few expertly poised snaps in front of the renown hotel wasn't enough.
Fontana then proceeded to walk over to the beach, paparazzi in tow. Drawing from her extensive model training, having posed for everything from Karl Lagerfeld and the Pirelli Calendar to Versace and Victoria's Secret, Fontana put her angles on display on the sand as waves crashed into the shore, seemingly unfazed by the amount of sand she would surely end up carrying back to the hotel with her afterwards. When the sea breeze is giving you literal wings off your dress, why worry about anything else, right?
Sounds picture frame-worthy, right? Apparently not enough as Fontana then proceeded to get into the water, fully clothed, to pose for even more photos. She slowly sank into the waves, parading across the beach while waving like a royal.
Then she went in even deeper.
Then she started splashing in the water, giving the paparazzi plenty of chances to flex their artistic vision.
That went on for awhile, before she dunked her own hair into the water. She must not have gotten the memo that you can get beach waves without actually going to the beach.
The grand finale though, which took place after countless poses later, might have been the most visually arresting: Fontana found a group of teens to pose with, who were all actually dressed like they were going swimming at the beach. Meanwhile Fontana's dress is overdue for a cleaning at the dry cleaners.
Oh well. It was worth it, right?
Related: Isabeli Fontana Shares Her Cannes Photo Diary
See What's Trending in W Video: