Issa Rae Creates Joyful Comedy Out of Dysfunction on HBO's "Insecure"
The show's creator and star captures the absurdity of being a young black woman, one small indignity at a time.
Photography by Eric Chakeen
---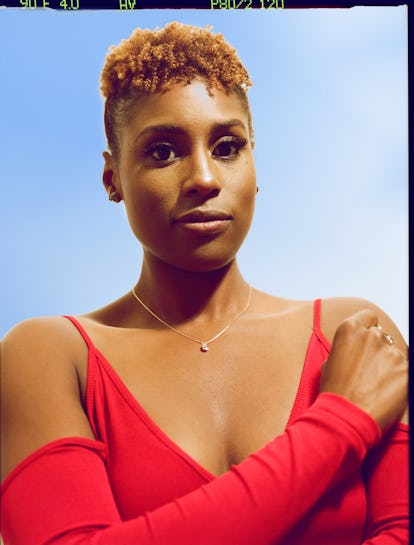 Eric Chakeen.
When HBO's new comedy "Insecure" premieres this Sunday, it'll be one of the network's first shows to star a black lead. But that's not why you should watch it. Created by and starring Issa Rae, and based off her viral YouTube series "The Misadventures of Awkward Black Girl," which focused on the pitfalls of being black and, well, awkward, "Insecure" makes energetic, sharply honed comedy out of the small indignities and daily undermining of Issa and her best friend Molly (Yvonne Orjii). And it takes some interesting formal risks: The audience gets to commune with their heroine via regular rap sessions in front of the mirror, during which Issa freestyles at herself. "I just love that as a device," Rae, 31, said recently. "And as a tool to release aggression. I find it funny that a passive aggressive person can do that in the mirror. But I don't really rap. I do it for fun and, like, under the influence of alcohol."
Still, Rae wears many hats on "Insecure," as its star, co-creator (with Larry Wilmore), writer, and unofficial head talent scout: She enlisted the likes of Solange as a music consultant, and the singer-songwriter Raphael Saadiq as the composer. The cast and crew she assembled share her vision of telling a wide range of stories in which the audience can see themselves and feel some kind of kinship. She credits her director Melina Matsoukas, who is probably best known for directing Beyoncé's "Formation" video, her show runner Prentice Penny, and her ultra-diverse writer's room for the authenticity of the characters, especially the nuanced, deeply felt black female friendship at the heart of the show (and their plight as single women in the outside world).
"A lot of it happened just talking. I discussed conversations I've had with my friends with some of the other writers, and we decided since we're telling a very human story and we're telling a very current story, let's incorporate a lot of the real conversations that we've had," Rae explained. "Like, 'What are some of your dealbreakers? What are some of the things that you feel like are off-limits in dating or off-limits in talking about in society?' Or just some of the intimate conversations we have amongst black people that we haven't seen on TV before that we want to see. So it just came from a very collaborative place in our writer's room."
There's an ultra-specificity to anything that feels authentic, and that extends to the setting, which is unmistakably South Los Angeles. Rae wanted to use her platform to dispel lingering sentiments about this part of the city. "I want you to feel like, 'Okay this is Inglewood, this is South L.A. This is a different L.A. from what's been portrayed in other things. When they use that part of L.A., it's usually considered the 'hood and it's downtrodden. But I live there, and I wanted to make sure that you could feel like it can be sexy, too, at some point. I wanted L.A. to be a character in this."