Issa Rae Just Needed More Shoulder Room in That Fashion Week Photo
Issa Rae gave an official stance on Justin Bieber's mustache and explained her viral New York Fashion Week photo with Lisa Rinna.
---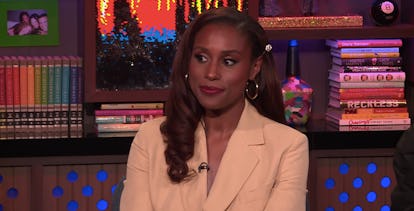 Last night, Issa Rae appeared alongside Lakeith Stanfield on Andy Cohen's nightly talk show Watch What Happens Live to discuss their new romantic drama, The Photograph.
For part of the WWHL segment "Issa Frank," which involves the Insecure creator sharing her "rainbow of pop culture opinions," Rae was asked to give her rapid-fire thoughts on anything from Parasite winning Best Picture at the Oscars to her favorite song of 2020.
The actress and producer also addressed the viral photo taken during her first New York Fashion Week, in which she appeared to be staring off into the distance while sitting next to Lisa Rinna and her model daughters, Amelia Gray and Delilah Belle Hamlin.
"The photographer wasn't trying to take a picture of me," Rae explained. "So I just moved."
"She was also rubbing my shoulders a lot, so I wanted more shoulder room and that was it! Period."
And when it comes to the divisive topic of Justin Bieber's 'stache (which the singer refused to shave even in the lead-up to the release of his fifth studio album, Changes), Rae stands where one has to assume even the musician's wife, Hailey Bieber, doesn't.
"I like the mustache. I'm always about facial hair," Rae said.
An official investigation into what compelled Bieber to grow the facial hair, which he calls "Ricardo the Mustashio," has yet to be launched, and though the world may be divided over whether or not he should shave his mustache, Rae is not one of the undecided.