Turkish Delight: The Istanbul Edition
If anyone knows how to throw a killer party, it's Ian Schrager, who did what he does best to mark the opening of his latest hotel, the Istanbul Edition, second in a planned rollout of...
---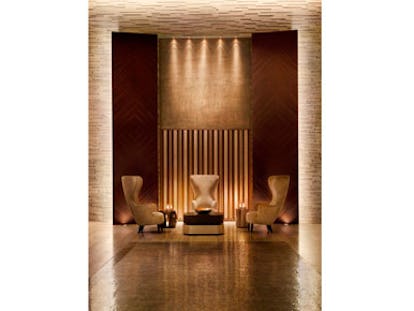 It's easy to see why the fashionable would flock to Istanbul, with its awe-inspiring architecture and Old World charm effortlessly mixing with ultramodern restaurants and nightclubs, and with the Edition's arrival, they now have a boutique address to call temporary home. The 13-story hotel's aesthetic is decidedly understated, incorporating Byzantine and Ottoman motifs and materials, such as mosaic tile, hanging lamps, into a contemporary design scheme. From the low-key, domed lobby (above), to the discreet check-in desks set off to one side, the vibe is similar to a white glove residential building's. A small army of attendants can mobilize in a moment to meet any request, but their attitude towards guest service is warmer than the aloof attitude you'll sometimes find at other five stars.
At an average of 480 sq. ft., rooms are enormous, with soaking tubs, glass-enclosed rainforest showers, Bang & Olufsen integrated HD tv's and a seating area with sweeping views. The Edition's public offerings are equally impressive, boasting an outpost of Cipriani (complete with dapper Italian staff) that resembles the restaurant's London location almost to a tee, a 20,000 sq. ft., multi-level spa operated by wellness experts ESPA (book the Turkish Indulgence), the lobby's Gold Bar, outfitted with a twenty foot aquarium, and the mezzanine floor's guest lounge. Things take a surreal turn at Billionaire, the nightclub namesake of creator Flavio Briatore (Schrager makes it clear that he had nothing to do it). The soaring multi-level underground space is very Austin Powers circa 1985, outfitted in shades of white with plenty of glass balconies from which to take in all the outré action. The opening's over-the-top performances by Russian pop star, Nikolai Baskov, with a bedazzled and pirate-shirted crew of backup dancers, and by Hadise, better known as the 'Turkish Beyonce', were a taste of good times to come.
The Edition offers enough to keep guests entertained for days on end, but given that Istanbul is one of the most storied cities in the world, exploring outside of the hotel is in order. The Grand Bazaar is the most famous shopping destination, but for a more modern selection, visit concept stores Midnight Express and ParisTexas. If contemporary art is of interest, drop in to Rodeo — a regular on the art fair circuit, owner Sylvia Kouvali represents top-tier Turkish talent — or stop by the Istanbul Museum of Modern Art, which has an excellent waterfront cafe. Big nightclubs abound, but it doesn't get more fun than Off Pera, a tiny dance bar where hipster locals let loose. And after you've had your fill of nightlife, enjoy a late-night drink on the terrace at hot spot Anjelique, overlooking the Bosphorus.