Meanwhile, in Istanbul
In case you missed them, here are the highlights from the annual IST. Festival.
---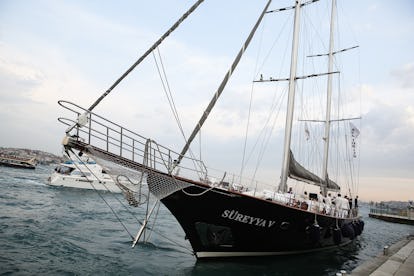 As the sun set over the Bosphorus Strait last Friday, a fleet of Mercedes-Benzes picked up guests who had just sailed down its blue waters, whisking them to the home of the Turkish collector Sevil Sabanci for a lavish meal. Artist Daniel Arsham, actress Juliette Lewis, and actor Harvey Keitel were fresh from Cannes; film producer and Eco Age creative director Livia Firth, performance artists Mimi Xu and Rosey Chan, and Chan's partner, the filmmaker Mike Figgis, were among a crew just arrived from London; Delfina Delettrez was there from Italy, while Waris Ahluwalia was one of the many New Yorkers in attendance.
Around this time each year Demet Müftüoglu-Eseli and Alphan Eseli, the founders of ISTANBUL'74—a multiplatform organization that connects Turkey's largest city to the international culture scene—invite a select group from the worlds of art, fashion, and entertainment for the Istanbul International Arts & Culture Festival (IST. Festival for short), a three-day symposium filled with talks, screenings, and exhibitions, accompanied by swanky dinners and parties. This year's theme, "Dialogues on Realism in Arts & Culture," highlighted the ways our perceptions of the world are changing. "Through technology and the internet, and with cameras becoming so much smaller, reality has become much easier to get access to," explains Eseli, pointing to the recent instances of American police brutality, and the role camera-phone footage played in the public conversation. "That changed the depiction of reality. People can now see those things."
The lineup for the 2015 edition included an exhibition of the Los Angeles-based artist Alex Prager's Hollywood inflected photograph, a screening of Arsham's film, "Future Relic 03," starring Juliette Lewis and a walk through the groundbreaking career of fashion photographer Craig McDean with W deputy editor Armand Limnander. The slideshow spanned from McDean's pictures of a young Kate Moss in Hollywood to the infamous 2009 editorial depicting Sasha Pivovarova as a homeless person in New York. "You would look at these beautiful girls in paper bags, with the stench on these streets," McDean recalled. "It looks glamorous, but it's not so glamorous."
Trevor Paglen, an artist and one of the filmmakers behind Citizenfour, the Oscar-winning documentary on Edward Snowden, gave a lecture on his attempt to portray the hidden worlds that are monitoring our every move on the web.
The brand-new Soho House Istanbul—situated inside the Palazzo Corpi, a grand, late 19th-century palace, and more recently the former U.S. Consulate—was the center of all IST. Festival activity on the final day, beginning with brunch on the terrace and concluding with a lecture by Mike Figgis on the amount of culture (and crap) that is flooding the internet.
By then, everyone was pretty much exhausted. But down the street at the regal Pera Palace Hotel Jumeirah, a spread of petite fours and other tiny pastries beckoned, as Ahluwalia urged a moment of repose at his House of Waris Tea Lab, for which he worked with the hotel's chef to procure flowers and spices from the Spice Bazaar, so that guests could blend their own teas.
Finally, it was off to the magnificent Ciragan Palace for a traditional Turkish feast to close out the festival. The way to get there, evidently, was by water. And so the fifth edition of the IST. Festival ended the way it started—on a boat.
Photos: Meanwhile, in Istanbul
Daniel Arsham, Juliette Lewis, and Alphan Eseli. Photo by BFAnyc.com.
IST. Festival 2015 Farewell Boat Trip and Dinner. Photo by BFAnyc.com.
Waris Ahluwalia. Photo by BFAnyc.com.
Demet Muftuoglu Eseli. Photo by BFAnyc.com.
Alphan Eseli and Mike Figgis. Photo by BFAnyc.com.
Trevor Paglen. Photo by BFAnyc.com.
Stephen Jones. Photo by BFAnyc.com.
IST. Festival Gala Dinner hosted by Chopard and Livia Firth. Photo by BFAnyc.com.