It Trend, It Girl: Sophie Auster
Musician Sophie Auster sets the mood in airy eyelet.
---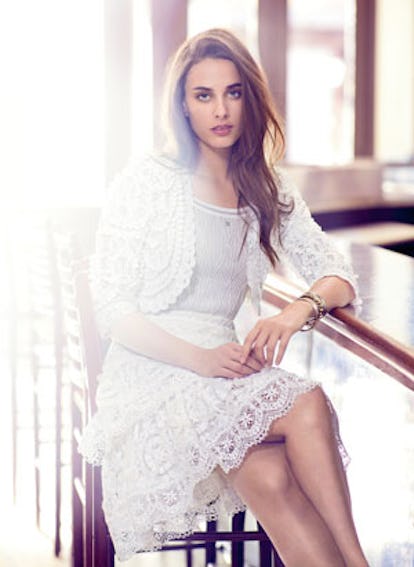 Photography by Trent McGinn Styled by Vanessa Chow
The musician Sophie Auster prefers one lump of sugar to two—at least when it comes to her wardrobe. She indulges her sweet tooth with Chanel dresses, a sixties tropical-print Oscar de la Renta gown, and a sheer vintage nightgown, tempering feminine pieces with leather jackets and hats from her vast collection. "I want to look in charge," says the 24-year-old.
She certainly sounds in charge on her latest EP, Red Weather, released earlier this year. The title references a Wallace Stevens work—a nod to the singer's literary provenance as the daughter of Brooklyn-based novelists Paul Auster and Siri Hustvedt. (Emily Dickinson and Theodore Roethke are some of her other favorite authors.) But the music's lyrics and mood—she cites Kate Bush, Fiona Apple, and Tom Waits among her influences—are all her own. One song, "Run Run Run," mixes aching verses with a beats-driven chorus; "Wicked Word" shows off her rocker-chanteuse side.
Auster got her singing start at 8 as a choir soloist, followed by an adolescence of theater camps and musicals. At 16, a chance encounter with a local band looking for a singer led to her self-titled debut, released on a French label in 2005. She has since taken up the acoustic guitar and developed a voracious songwriting habit. "It took me a long time to figure out what I wanted to say," Auster explains.