It Trend, It Girl: Strike A Posy
British stylist Sophia Hesketh takes on full-bloom floral prints.
---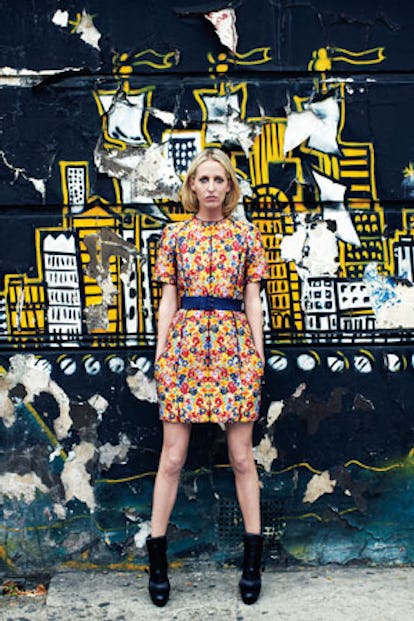 Photography by Roger Deckker Styled by Omaima Salem
The Honorable Sophia Hesketh had a rather rarefied introduction to the fashion business. When she was 18, family friend and Tatler editor Isabella Blow enlisted her to model in a shoot with Daphne Guinness in Kuwait. At one point Hesketh found herself in a see-through John Galliano caftan on a sheep farm, with the farm's very devout Muslim owner threatening to pull out a gun. "Izzy said, 'It's so chic!' and I thought, I'm not going to get killed for fashion!" recalls Hesketh, 26, the daughter of Lord Alexander Hesketh, a former Formula 1 team owner and member of Margaret Thatcher's government.
Soon thereafter, she traded modeling for styling, assisting freelance fashion editor Charlotte Stockdale and Japanese Vogue's associate fashion director George Cortina. And while her daily uniform of Rika leather shorts, Alexander Wang and Acne T-shirts, and Jil Sander brogues skews minimal—she also owns "millions" of short black dresses—Hesketh has embraced prints of late, like this floral Céline shift (left).
Such cheery ensembles are more in keeping with her countryside childhood: Hesketh grew up in the 17th-century Easton Neston mansion in Northamptonshire, England, to which Thatcher once paid a visit. Hesketh, however, was too young to take much notice. "I just knew she gave me a nice Easter egg," she says. With her tony upbringing and the recent styling gigs she's landed, Hesketh could easily have a to-the-manor-born attitude—but she's keeping her feet planted on the ground. "It's nice to know I can still do stuff with George," she says. "In case I never make any money."