La Dolce Villa
Two new accommodations meld Italian heritage with the comforts of home.
---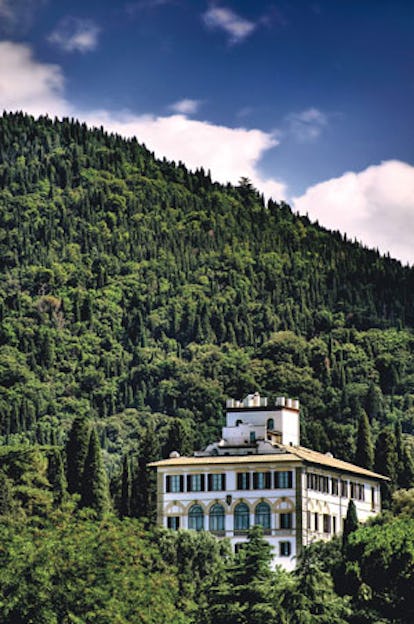 Francesca Bortolotto Possati, a Venice native whose Bauers L'Hotel and Il Palazzo have defined local elegance for years, has just opened the lush Villa F on artsy Giudecca Island, a five-minute ride across Venice's Grand Canal.
The 16th-centry villa, once a pensione favored by artists, writers, and actors, has been converted into long-stay lodgings made up of 11 apartment-like residenze (the staff can equip your fridge with produce from the local markets or prepare a meal on the spot) surrounded by manicured gardens and decorated with pastoral frescoes.
To the south, in the hills surrounding Fiesole outside Florence, father-and-son team ­Marcello F.M. Pigozzo and Marcello Malik Pigozzo has taken a similar approach with Il Salviatino, the $60 million renovation of a palatial 15th-century villa.
The Mediterranean pool and garden at Villa F
Situated on 11.5 acres of Tuscan gardens and orchards, Il Salviatino has 45 rooms and suites, including a four-story penthouse suite in the building's medieval tower, which has views of both Fiesole and Florence. Forty service ambassadors—discreet, modern-day butlers—handle everything from room management to excursions to the surrounding sites. The experience is much like staying in a friend's guesthouse—if your friend happens to be an Italian Renaissance scion.
Villa F, Il Salviatino: Courtesy of the locations.