Silvia Venturini Fendi, Demna Gvasalia, and Lotta Volkova Crown Mayako Kano Queen of Fashion's Emerging Talent
The designer from New Zealand takes top honors at this year's ITS contest
---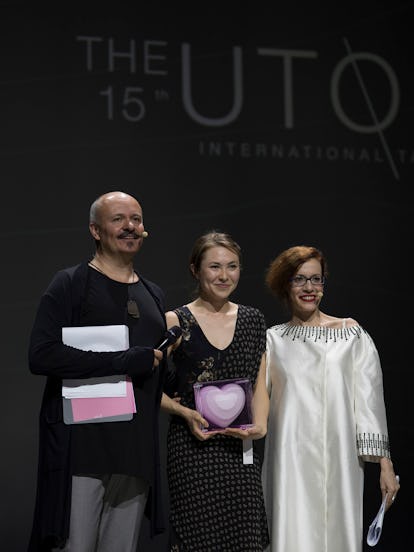 Held in Trieste, the majestic city on the northeastern corner of Italy's Adriatic Coast, the annual International Talent Support (ITS) Fashion contest is the real deal. The 15-year contest, held this past weekend, is a closed circuit face-off between emerging fashion talent, cherry picked from the world's top schools, headhunters, key brands, sponsors (Only the Brave, Swarovski, Swatch, and YKK) and select members of the press.
Parson's grad Mayako Kano from New Zealand took home the big cash prize of €10,000 in the Fashion category; London's Royal College of Arts Niels Gundtoft Hansen from Denmark and University of the Arts Bremen's Anna Bornhold from Germany won the OTB Award and € 5,000 with the possibility of an internship in one of the group's prestigious brands; and Britain's Helen Kirkum won the Accessories Award, which also included a cash prize of €10,000.
It's a nice chunk of change, but the prize money isn't the real draw here. The prize at ITS is the audience and star-studded jury on the lookout for talent, including this year's judges Demna Gvasalia of Vêtements and Balenciaga (who won ITS back in 2004), Silvia Venturini Fendi, Lotta Volkova, and FIT's Valerie Steele. The angel behind it all is ITS founder Barbara Franchin, who reviews hundreds of student portfolios each year and assembles the ITS archive of key pieces from past editions, which functions like a museum of trends, including the early work of celebrated winners like Peter Pilotto and Demna Gvasalia.
Kano, 32, currently works for Jason Wu in New York as a collections design coordinator. Her Reverse Fade was all about taking apart existing clothes and "collaging" them back together with hand embroidery and trapunto quilting, inspired by "handmade things from previous eras that have been stored between pieces of tissue paper, archived or coated in gloss," she said.
Kirkum, 24, worked with recycling centers in London to collect old sneakers, which she broke down to their component parts. "I meticulously cleaned all these shoes in my bathtub, unpicked everything, steamed off the soles and zigzag stitched it all back together," said the designer, who is headed to work for Adidas.
Hansen, 28, presented his collection Hærværk, or Vandalism, an ode to lost kids on the streets of Copenhagen. As part of the win, Hansen has the choice of a year's design job with Diesel at its headquarters in Bassano, or at OTB's Maison Martin Margiela in Paris. "I always loved identities and cultures, but after playing guitar in several bands I enrolled in a fashion course by chance," said Hansen, who made his own fabrics by heat pressing truck tarp and plastic for a distressed vacuum-packed look in boxy, workwear shapes.
Bornhold, 33, who won last year's Chloë prize at the Hyères Festival in the south of France and is the ex aequo winner of the OTB prize for her Kiss a Frog, But Only With Brushed Teeth collection of intricately textured sweaters and workwear style basics. "I want to make clothes with a sense of humor. I hope people will want to touch my pieces and smile," said Bornhold.