It's the Year of Kanye West, and the Color Pink
In case you missed them, here are the top style stories of the week.
---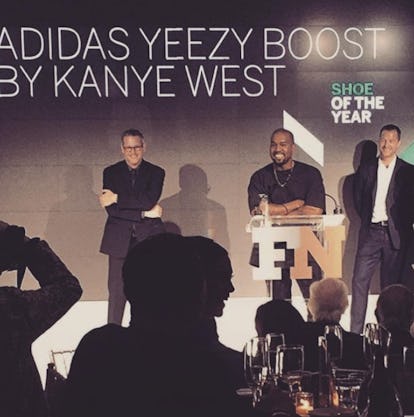 Drake Will open his first brick-and-mortar OVO store in Los Angeles, so you don't have to go to Canada.
Dunham, Lena Launched an online store for her newsletter, Lenny, because everyone needs a "FEMINIST" banner.
Elbaz, Alber Isn't leaving Lanvin without a fight, might cost the brand $55 million dollars.
Hadid, Gigi Wears heels in the snow for Steven Klein's Versace ads, inspires Donatella to launch an Instagram account in the process.
Jenner, Kylie Launches a lip kit, eBay explodes.
Mellon, Tamara Files for Chapter 11 Bankruptcy, which is unfortunately not the title of a book.
Pantone Names "Serenity" and "Rose Quartz" as colors of the year. Called it!
Pirelli Unveils its revamped 2016 calendar photos, Amy Schumer and Serena Williams are the only nudes. Lena Dunham was not present.
Repossi, Gaia Has a new petit ami with a big name: LVMH.
Rocha, Coco Launches her own clothing line, Co+Co, not to be mistaken for the Coco.
Stewart, Kristen Stars in Karl Lagerfeld's latest fashion film. Smiles.
Von Teese, Dita Disses the Kardashian's favorite waist training corset, a real punch to the gut.
West, Kanye Wins "Shoe of the Year" award for the Yeezy Boost 350, obviously gave a long speech.