Ivanka Trump Fashion Brand Pulled From Still More Retailers as Sales Drop
The Ivanka Trump fashion brand has become a political flashpoint, but retailers are more concerned with their bottom line.
---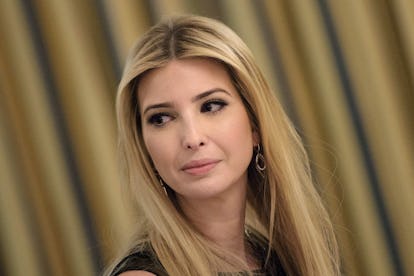 BRENDAN SMIALOWSKI
It often happens in fashion that things start on the high-end and then work their way down. That's also the case with department stores deciding to reevaluate their relationship with the Ivanka Trump apparel brand. What started with Nordstrom's and Neiman Marcus is now also taking hold at Marshalls, Sears, K-Mart, Belk, and Burlington Coat Factory stores. While the business moves have been a source of political controversy to the point that even President Trump has addressed it on Twitter, the mounting evidence suggests that the stores aren't motivated as much by partisan concerns as they are their bottom line.
Not every brand has removed the Ivanka Trump brand outright, but they are reevaluating their relationship with the line that bears the first daughter's name. Sears and K-Mart, which share a parent company, said they removed "a very small number" of Trump products from their online shop, according to ABC News. (It should be noted the company's CEO Edward Lampert is well-known for his embrace of Ayn Rand-informed conservative ideology.) Belk removed Ivanka Trump merchandise from its online stores and some retail locations as part of a "normal course of business operations" after reviewing the brand's performance. Burlington Coat Factory removed the brand from its website but hasn't commented publicly. Marshalls has decided to stop emphasizing the brand in store by removing any signage specifically highlighting the line.
Every chain which has offered a public explanation has pointed to business rather than politics as their reasoning. What evidence that is publicly available does seem to point to that being true: The Wall Street Journal reports that it reviewed internal sales date from Nordstrom's and found that sales of the brand dropped in the lead-up to the election even as the company's overall sales increased. Nordstrom moved $14.3 million worth of Ivanka Trump products in the just-completed fiscal year, compared to $20.9 million the previous year (Norstrom wouldn't confirm the finding and said it did not provide the data to the paper.) The Washington Post cites data from Panjiva, a global trade data company, that claims imports for the Ivanka Trump brand were down 54.4 percent in the last quarter ending in January, compared to the previous quarter.
So, yes, people really are buying less Ivanka Trump merchandise.
This might be in part to the Grab Your Wallet movement, which urges those who disagree with the Trump administration's actions to abstain from doing business with any company that has a business relationship with any Trump brand, but the Post explains that there may be reasons other than a pointed boycott at play. Most shoppers want to buy a pair of shoes because they're a nice pair of shoes, not because they're suddenly a political flash point.
"Unlike the boycotters, who want the brand banished from shelves, this shopper may not even care that Nordstrom carries it," writes The Post. "She just doesn't want to buy it."
Maybe it's easier, too, to bypass the Trump line if there are plenty of other brands offering similar styles and price points. As the Post puts it, "The Ivanka Trump line doesn't give them anything they can't get elsewhere."
In other words, many shoppers aren't forgoing the brand to make a political statement, but rather because they don't want to make a political statement by buying it in the first place. Why add controversy to your wardrobe when you don't have to?
The Ivanka Trump line is also more susceptible to blowback than other facets of the Trump empire. It's a consumer brand selling accessibly-priced items aimed at the general public and relies on outside businesses to actually sell it. That's not as true for penthouse apartment or golf resort get-aways. Choice in clothing is seen as more of form of personal expression than choice in where one tees off, anyway.
And although Ivanka Trump herself stepped down from the brand, it still remains part of the family's business under the lead of her brothers.
Though, according to one report, Ivanka herself is still concerned with the controversy.
After White House counsel Kellyanne Conway gave an ethically-questionable "free commercial" for the brand on a news program, Ivanka was reportedly none too pleased.
"A source close to Trump said that his daughter scolded Conway for dragging her brand into an ethics mess and told her not to mention it again on TV," reports Politico. "This was a continuation of a conversation that Ivanka Trump had with her father weeks earlier about leaving her business out of the politics, a conversation that Conway wasn't aware of."
Watch W's Most Popular Videos: